MultiCardKeno.com » Live Keno »
Keno in New Mexico

When you think of gambling, Las Vegas or Atlantic City might be the first places that come to mind. You might not even think that New Mexico could be on that list. Whether you're looking for a unique place to travel to, or just want to get away from the stresses of daily life for awhile, New Mexico offers some of best resorts and casinos in the Southwest. Mostly run by Native Americans, casinos in New Mexico are simply gorgeous, offering some of the best gambling and resort experiences that money can buy.
With over 25 successful casinos and 4 horsetracks currently operating in New Mexico over a wide area of the map, you can be sure that wherever you end up, you'll have a beautiful place to stay and gamble for awhile. If you're an avid Keno player like me, then you'll be looking for the best places in New Mexico to play a few games. While there isn't a large number of casinos in New Mexico that still offer Keno, the resorts that do boast an incredible keno-playing experience.
For the wayward traveler itching to throw their wagers, I've compiled a list of casinos in New Mexico that offer my favorite game:
New Mexico Keno – Sandia Resort and Casino
Located in Albuquerque, the Sandia Resort and Casino offers an award-winning resort experience and features a 140,000 square foot gaming experience, with more than 2,300 slots and 33 table games. Boasting a large, relaxing resort experience, the Sandia offers multiple dining options, a players club that offers points for every dollar spent (3x points on Keno!) that can be claimed for credit or other amazing discounts. The Sandia is the only casino in New Mexico that offers live Keno games all day. Give your wager to any of the Keno runners on the floor, and keep your eye on the monitors set up all over the casino. You can sit anywhere in the casino and still play Keno. $25,000 is up for grabs, so come to Sandia and set your wagers!
Website: www.sandiacasino.com
New Mexico Keno – Isleta Resort and Casino
Opened in June 2009, Isleta Resort and Casino is one of the top casinos in New Mexico. The casino provides all the fun and excitement of a Las Vegas-style gambling, but surrounded by the beauty that New Mexico has to offer. The gorgeous resort is situated near the town of Isleta, about 13 miles outside of Albuquerque. The small town hosts a population of Native Americans who adhere to their traditional yearly ceremonial cycle, and speak both their native language. The culture surrounding the resort is rich, and with the casino boasting a wide array of slots and table games and includes my favorite game – Keno – you can be sure that everyone will find something wonderful to fascinate them. Isleta Casino offers almost daily promotions and live events, including hosting some of the top musicians in the country. Tickets for those events are available to be purchased in advance. The Resort is chock-full of relaxing amenities, a gorgeous dining experience, and a wonderful night's rest in their lovely rooms and suites. For any traveling gambler, this resort is a must see!
Website: www.isleta.com
New Mexico Keno – Northern Edge Navajo Casino
Northern Edge Navajo Casino opened its doors in 2012, and has become a hotspot for those who want to see the beauty of the four-corners area during the day, and relax in the casino at night. Northern Edge is open 24-hours on the weekends, and almost all day during the week. The longer hours means that any time you want to come and gamble, they'll be open for you! They offer a wide range of dining experience, as well as a players club membership program. While you're playing Keno, be sure to take a look around the casino floor and marvel at the traditional Navajo art adorning the walls. The Navajo are proud of their heritage, and want to share it with you while you're staying with them.
Website: www.northernedgenavajocasino.com
New Mexico Keno – Wild Horse Casino and Hotel
Located in Northern New Mexico, this casino is owned by the Jicarilla Apache Nation and offers a wide selection of video keno, slots, and video poker machines. The surrounding area is gorgeous, and you can bet that you'll have some lovely views while you're staying here. The games include progressive jackpots and the resort has 41 rooms and a gorgeous cocktail lounge. For the Keno buff like me, this sounds like a wonderful place to gamble!
Website: www.apachenugget.com
Our Most Popular Keno Casinos for United States: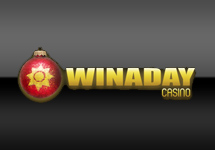 "WinADay Casino is the home of "Power Keno', the most populer online casino game with 7 Cards of Keno at once!"