MultiCardKeno.com » Live Keno »
Keno in New Jersey

New Jersey is one of the most popular states for gambling thanks to the great city of Atlantic City. This is a city that has become very popular over the years thanks to its many casinos and its assorted outside attractions including its famed Boardwalk and the many shores around the city. Today people who come out to Atlantic City can play a variety of great games at the many casinos around the city. However, keno is not as prevalent as other games are.
Some keno games may be found in some places around the beautiful New Jersey city of Atlantic City although not all casinos have their own particular keno rooms or even machines to play the game with. The options that are around in this state are important to consider as they come in many forms. It helps to look around these different casinos to see what is available.
Keno in New Jersey: Tropicana
The Tropicana casino on the Boardwalk in Atlantic City is one of the most popular casinos in the city. This casino is particularly famous for offering a variety of great games including a unique form of keno. In particular, this casino offers the Fortune Teller Keno game.
This works in that a player can pick up to fifteen numbers. A player will pay as little as 20 cents for each draw and will look to match as many of the twenty numbers in a pool of eighty are drawn. This is a popular game that offers a good payout of about 95 percent on average.
The keno games around the Tropicana are paired with many other exciting games of all sorts. These include roulette, baccarat and poker games as well as a variety of slots that work with a number of money denominations in mind. This is all paired with a large variety of restaurants and a full spa that offers various great body treatments for all guests to enjoy using during the daytime.
Website: https://tropicana.net
Keno in New Jersey: Trump Taj Mahal
The Trump Taj Mahal has a physical keno room. This casino on the Boardwalk at Virginia Avenue in Atlantic City is popular for its lavish appearance and a strong attention to detail all around the entire place. This offers a beautiful look that has become very popular over the years. The keno hall here works with the same rules for playing keno as what is used in any other casino and offers games during most times of the day. The keno room can be found not too far off from one of the many restaurants in the casino.
The Trump Taj Mahal offers these keno games alongside about 2,500 other video gaming terminals. The Hard Rock Café restaurant located here is an especially popular place for people to enjoy dining out at.
Website: https://www.trumptaj.com
Keno in New Jersey: Golden Nugget
Although the Golden Nugget casino on Huron Avenue and Brigantine Boulevard in Atlantic City does not have a physical room for keno, it does offer an IGT Game King keno game. IGT makes keno games as part of its Game King series of video table games. It goes alongside the blackjack and video poker games that the system already has.
The IGT Game King game offers a variety of keno variants. These include variants where a player can use several different cards on the same game. A player can always choose from one of many different games depending on what the player chooses. The payouts will vary based on the total amount of money that a player bets and the number of spots that are chosen on the game, thus making for a varied game that is rather appealing for all players to look forward to.
Website: https://www.goldennugget.com/AtlanticCity/
Keno in New Jersey: Harrah's
Harrah's is one of the most popular names in the world of casinos. A keno parlor can be found at the Harrah's casino in Atlantic City on Harrah's Boulevard. This popular keno hall has a refined appearance that offers a lively atmosphere during the daytime hours. This offers a traditional arrangement of betting options and various standards for play that make it easier for people to go after some big totals. The keno games go especially well with nearly 4,000 other gaming machines and various poker rooms and tables all around the casino.
Website: https://www.caesars.com/harrahs-ac
Our Most Popular Keno Casinos for United States: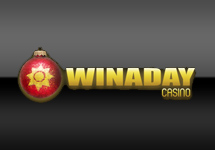 "WinADay Casino is the home of "Power Keno', the most populer online casino game with 7 Cards of Keno at once!"