MultiCardKeno.com » Live Keno »
Keno in New Hampshire

Though there is Keno in New Hampshire, many people often relate the region to race tracking, charitable lottery and horse racing. However, with the growth of online gambling and less restriction on gambling, online gaming is slowly becoming a pastime for both locals as well as visitors. Did you know that New Hampshire was the first state to make state lottery legal. This probably explains why lots of gambling in the state is done mainly for charitable purposes. The tribal and commercial casinos aren't so common in the region and this limits the availability of games such as keno, roulette, black jack, video poker, slots, sports betting and more. However, this doesn't mean you can't enjoy a game of keno. The following are some of the casinos that offer keno in New Hampshire.
Keno in New Hampshire: Lakes Region Casino
Though it is most-famous for greyhound racing, the Lakes Region casino is also one of the top New Hampshire casinos that offer keno. It is located on 1265 Laconia Road, route 106 in Belmont, New Hampshire. The games are operated under supervision of the Casablanca Casino LLC and feature championship, tournament as well as charity games. It operates from 4 pm to 11 pm on Wednesday and Thursday, and from 12 pm to 1 am on Friday and Saturday. On Sunday, the casino opens from 12 pm till 11 pm. In addition to Keno, the casino also provides the usual a casino games which include poker, black jack, baccarat, slots and many more. Entertainment, food and drinks are also provided by the casino. Visit www.lakesregioncasino.com or contact them at 603-267-7667.
Keno in New Hampshire: The Poker Room
Located on 1 Lafayette road in the City of Hampton Falls, New Hampshire, The Poker Room casino is rated as the foremost provider of Keno. It was established in 2006 and currently enjoys partnership with more than 120 charities in the region. The casino which opens at 9 pm every day boasts of 30 gaming tables and offers a variety of games besides Keno. These include 7 Card stud, Sit-N-Go, Limit HoldEm and many others. The betting starts from $40 all the way to $150 per game. Contact the casino through 603-601-2486 or Stopover at www.thepokerroomnh.com to learn more about playing Keno in New Hampshire.
Keno in New Hampshire: Rockingham Park
Popularly referred to as the First and Finest casino in New England, the Rockingham Park Race casino is a popular stopover for keno lovers. Before allowing keno to be offered in New Hampshire, the casino was better known as "racino' because of offering racing and casino. It is located on Rockingham Park Boulevard, in Salem, 03079 New Hampshire. While the more mature engage in gambling, the kids and teens have access to the clubhouse which charges a dollar. Rockingham Park is opened on a daily basis with charitable games being played every Thursday, Saturday, and Sunday of the week. In addition to keno, the casino offers greyhound racing, Texas Hold Em, Boston 5, Blackjack, Roulette, and Let it Ride. There is also accommodation and food on offer. Take a peak at www.rockinghampark.com for more details. You may as well contact the firm through 603-898-2311.
Keno in New Hampshire: The River Card Room
The River Card Room casino was among the first casinos to start offering keno in New Hampshire. It is located on 185 Elm Street in Milford, Granite Town, NH 03055. It's mainly known as a charity casino and offers Keno, Roulette, Blackjack, Let it Ride, Craps, 3 cards Poker and other games. The casino is open seven days a week and operates from 5 pm to 1 am from Monday to Thursday, 3 pm to 1 am on Fridays and from 12 pm to 1 am on Saturday and Sunday. The betting ranges from $2 to $4 per game and as of the end of last year, the casino had raised over $1.5 million for charity. You may contact the casino using 603-249-558 or visiting their website at https://www.riverpokerroom.com.
There is no state law that prohibits gambling in New Hampshire. Also, you are not restricted from carrying any gambling device with you while in the state. However, with the low presence of the traditional casinos, you will find online sites such as those mentioned above worth your time and money. You should also familiarize yourself with the gambling scene to learn more about the industry. To take part in any form of gambling or betting whether for commercial or charity purposes, you need to be aged 21 years and over while the minimum age in the state lottery is 18 years. To enjoy a game Keno in New Hampshire, simply visit any of the above mentioned online casinos.
Our Most Popular Keno Casinos for United States: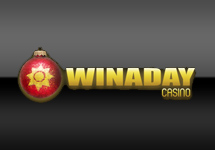 "WinADay Casino is the home of "Power Keno', the most populer online casino game with 7 Cards of Keno at once!"