MultiCardKeno.com » Live Keno »
Keno in New Brunswick

New Brunswick is among the three maritime provinces in Canada, and the only province whose constitution embraces both French and English as official languages in Canada. The province is also home to six bustling casinos spread throughout five cities with over 200 slot machines and 8 table games to choose from. Most casinos also offer accommodation in their hotel casinos at spectacular rates.
Though six isn't exactly what you'd call a lot of casinos, the casinos in New Brunswick live up to and even surpass the expectations of any gambler or visitor looking to have fun. For all you Keno lovers out there, New Brunswick offers Keno through various lotteries and casinos where you can play your favorite game and win loads of cash.
Keno in Casino New Brunswick
Undoubtedly the biggest casino in New Brunswick, Casino New Brunswick offer nothing less than unparalleled experience for anyone who steps foot in the establishment. The casino is located at 21 Casino Drive, Moncton, NB E1G OR7, an easy place to drive to no matter which road you come from. Alternatively, you can take the rail or plane and still arrive safely and in time.
Multi King is a multi game bar in the casino where you can play keno with a luxurious twist. The bar comes complete with a posh keno lounge and a bartender at your service. Casino New Brunswick also offers superb accommodation for anyone willing to spend a couple of nights in the casino for more keno.
Keno in Grey Rock Casino
Also dubbed Grey Rock Entertainment Center, the casino puts up a great fight against larger gambling establishments in New Brunswick. Only recently put up, Grey Rock Casino may have a lot of growing to do. However, this doesn't mean that the casino fails to deliver when it comes to a good round of video keno. The casino also offers a free player's card to welcome their guests, and you will find superb food at a great price at their restaurants. Grey Rock Casino is located at 100 Grey Rock Road, Madawaska Maliseet First Nation, NB E7C OC1. The casino is easily accessible from the highway, and you will find lots of free parking at your discretion. You can also quickly change your American dollars into Canadian ones, so you'll only have to worry about what numbers you'll pick in keno.
Keno in Eagle's Nest Gaming Palace
Also known simply as 'The Nest', the casino is conveniently located at 17 Muwin Lane, Woodstock First Nation, NB E7M OB1. The establishment boasts the most cheerful and friendly working staff and a one of a kind smoking bar where visitors can puff away at their pleasure. Keno lovers will fall in love with the Video Lottery Terminals offering video keno that will have them hooked for hours. Apart from these services, Keno has an excellent restaurant upstairs to satisfy your food cravings and a bar called Nighthawks where you can buy your favorite drinks and also play a round or two of pool. The casino is rumored to attract huge winnings, but you'll have to go there yourself to prove this.
Our Most Popular Keno Casinos for United States: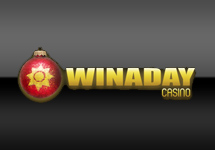 "WinADay Casino is the home of "Power Keno', the most populer online casino game with 7 Cards of Keno at once!"