MultiCardKeno.com » Live Keno »
Keno in Montana

The Montana State Legislature allows limited legal gambling in Montana. Poker, bingo, slots, and keno are all allowed with a maximum 2 dollar bet and 800 dollar payout. Other legal games include raffles, panguingue, and shake-a-day. Fantasy sports leagues are also legal. The gambling legal age in Montana is 18, but children under 18 can participate in school, church, charity, or nonprofit gambling events. Montana's rules are executed by a legislative body called the Gambling Control Division. That being said, Montana is home to 7 Indian nations as well as one state-recognized tribe that is allowed both to and not to entertain gambling as they wish. Furthermore, though the state lottery does not officially have a state-wide keno option, it does offer a Keno-style game.
Keno in Montana: State Lottery
While the lottery does not officially play keno with participants, it has a game similar to keno called 10 Spot. Started in 2010 in Helena, Montana, the 10 Spot game was borrowed from the Ohio State Lottery's game known as Ten-Oh. Twice every day, the lottery will draw 20 numbers out of 80 possible. Players will choose 10 numbers, for 1 dollar per 10 numbers. Players who match 0 numbers receive 2 dollars, players who match 5 numbers receive 4 dollars, and players who match 6 numbers receive 14 dollars. Furthermore, players who match 7 numbers receive 50 dollars, players who match 8 numbers receive 225 dollars, players who match 9 dollars receive 2500 dollars, and players who match 10 dollars receive 25000 dollars. The odds to 1 against for the winning values are as follows: Getting zero matches rounds to 21. Getting five matches rounds to 18. Getting six matches rounds to 86. Getting 7 matches rounds to 620. Getting 8 matches rounds to 7,383. Getting 9 matches rounds to 163,380. Getting 10 matches rounds to 8,911,711. Critics of the game remark that the payout for ten is much smaller than other governments playing comparable games, who offer up to 750,000 USD for 10 matches. The Montana state game, however, may be offset by the fact that 5 matches pays twice as much than 0 matches, though its odds are more likely.
Keno in Montana: Silver Wolf Casino
The Silver Wolf Casino is located in Wolf Point, Montana, on the 300 Montana 25 East and 4th Avenue. The casino is open from 10:00 am to 12:00 am Sunday through Thursday, and from 10:00 am to 2:00am Friday and Saturday. The keno machines are open every day alongside video lotto, slots, bingo, and video poker for a grand total of 80 gaming machines. The minimum bet is 5 cents and the casino is located on a Native American reservation. The keno machines are notoriously loose, and the room is large enough to fit 300 players at a time.
Keno in Montana: Gray Wolf Peak Casino
Gray Wolf Peak Casino is located in Missoula, Montana, on the 20750 Highway 93 North at an area called Evaro hill, located in a Native American reservation belonging to the Confederated Salish and Kootenai tribes. The casino is currently operating but undergoing a multimillion dollar renovation. The casino includes a restaurant and lounge and is open from 9am to midnight weekdays and from 8am to 2am on Fridays and Saturdays. Video keno is offered daily alongside 100 slot machines. The minimum bet is a penny. The new addition to the casino will open up several thousand more square feet of gaming locations and increase the number of gaming machines up to as much as 400. The expansion plans were originally much larger, but were scaled back due to complaints from tribal elders.
Keno in Montana: Kwa Taq Nuk Casino Resort
Kwa Taq Nuk Casino is adjoined to a Best Western on the south shore of a lake included in the Salish reservation called Flathead lake. While various types of Electronic Keno is available, Kwa Taq Nuk is proud of its "The Rocket" slot, bingo, and keno machines, stating that they're the highest paying in the country. Kwa Taq Nuk is open 24/7, and includes an onsite restaurant with vegetarian options available. Furthermore, the Polson Bay Golf Course is a 27 hole golf course that is just a "chip shot" away from Kwa Taq Nuk Casino Resort. Flathead Lake is also just a few feet from the front door of Kwa Taq Nuk Casino. Flathead Lake is the largest freshwater lake west of the Mississippi. The lake itself is 180 square miles in area, and the KwaTaqNuk crew offers cruises and day trips. Incentives for these trips include the clean and clear waters, the pristine view, the ability to spot wildlife along the shore, and the "experience of witnessing Big Sky Country in all its glory." KwaTaqNuk is located at 49708 US-93, in the town of Polson. Its amenities include free wi-fi and free breakfast
Our Most Popular Keno Casinos for United States: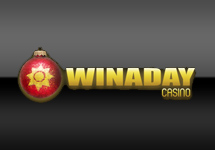 "WinADay Casino is the home of "Power Keno', the most populer online casino game with 7 Cards of Keno at once!"