MultiCardKeno.com » Live Keno »
Keno in Mississippi

Mississippi is one of the great gambling states in America. It houses over 35 casinos and 15 cities that allow gambling and these venues include tens of thousands of slot machines and over 1000 table games. The casinos in Mississippi can be very grandiose and opulent and contain very lavish hotels catering to guests coming from all over the country. In fact the iconic steamboat casino is something very specific to the Mississippi gambling culture and many still exist today as they did decades ago.
Today's Casinos in Mississippi feature over 97 live poker tables where guests can play and most hotels and casinos take advantage of the corporate event circuit and have large event spaces dedicated to business travelers in town for work. Casinos are also now in the business of entertainment outside of gambling and there are a total of 28 special venues in the state and one hundred and twenty four restaurants operating in the casinos, some opened by world-renowned chefs with restaurants in some of the world's most attractive cities. Keno is a game that can be found alongside various other games in the state, although not at every casino within state lines. it easily blends with many other games enjoyed by casino lovers given its nature and mode of play
Keno at Beau Rivage Casino is played alongside a long list of other Casino games at the property, in total there are 110 table games at the property, 2100 gaming machines and 16 poker tables. Many travelers and guests are drawn to this particular casino because of the diverse amount of games on offer, a resort that is rated with four stars, a full service spa with a pool for the kids and a very active nightclub for the single crowd. Attractions like the Fallen Oak Golf Course, the Beau Rivage Arcade and the Beau Rivage theatre offer guests a truly unique entertainment and gaming experience. Keno at Beau Rivage is simply part of the show, not part of the main attraction.
www.beaurivage.com/
Keno at the Golden Nugget in Biloxi, TN is part of a large roster of casino games that are featured at the property. Classic casino games are mixed amongst 30 tables across the floor, some games are specific to one area of the floor and some games are intermingled around the floor. The casino games are also located next to the hip, loud and fun Party Pit live music area so guests enjoying Keno or other classic Casino games can enjoy a unique card playing experience full of rhythm. Away from the casino games, the Golden Nugget provides keno and non keno players a variety of entertainment and culinary options to choose from. The resort houses 4 restaurants, with each restaurant serving different types of food and having a different them. The full service spa offers a relaxing break from the busy gambling environment on the casino floor. The resort also features a golf course called Golf Biloxi, a grand ballroom for guest and the aforementioned Party Pit and similarly themed Rush Lounge. In total the resort offers 30 table games and 890 gaming machines.
www.goldennugget.com/biloxi/default.asp
Keno at Harrah's Gulf Coast takes a back seat to other games, as well as other attractions for guests of the hotel and casino. The casino features 25 table games that feature a large amount of diversity in the games that are played. Harrah's hypes up their 800 state of the art and energizing slot machines as a must experience for guests. Recently, the hotel has undergone a multi-million renovation that has revitalized the hotel. The golf course is highly rated and the spa is highly rated for both men and women. The pool offers guests a relaxing break from the casino action as well, and private cabanas for more of an intimate experience.
https://www.caesars.com/harrahs-gulf-coast
Overall, Keno in Mississippi is a game that can be found at some of the bigger casino resorts around Mississippi. While there are a few options for players to play the game around the state, it seems to take a back seat to the other games the casino seems to hype up and really becomes an afterthought when compared with the variety of luxurious attractions, activities, sports and other activities that the modern day casino in Mississippi now offers.
Our Most Popular Keno Casinos for United States: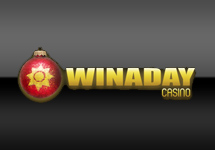 "WinADay Casino is the home of "Power Keno', the most populer online casino game with 7 Cards of Keno at once!"