MultiCardKeno.com » Live Keno »
Keno in Massachusetts

In the New England region of the United States, Massachusetts remains the most well-known state. This lovely state is bordered by Rhode Island, Connecticut, Atlantic Ocean, New York, Vermont, and New Hampshire. Boston is the capital of Massachusetts and it remains the most well-known city in New England. Eighty percent of the people residing in the state live in the Greater Boston. This is a region with American industry, academia and history as well. Massachusetts has been converted into a production platform during the industrial Revolution. The state is highly dependent on trade, fishing and agriculture. The state is an international leader in maritime trade, finance, higher education, engineering and biotechnology. With this beautiful information about the state of Massachusetts, you will be surprise about the flood of casinos thereof. If you are looking for a state in the US where casino games glow like flame, then Massachusetts is the right place.
Keno in Massachusetts: Wynn Boston Harbor Resort:
This wonderful casino service is found at one Horizon Way in Everett, Massachusetts. It is also perfectly located on the Mystic River waterfront across Boston. The service offers top-notch suites and about six hundred elegant guestrooms in Wynn pattern. It is completely functional and will be launched in one prestigious occasion. The facility contains three thousand two hundred and forty-two slot machines in its 150,000 square foot casino floor. Players can as well find around one hundred sixty-eight table games. The facility remains the biggest private development in the state of Massachusetts with its 1.6 billion dollars build-out cost. The casino platform has over sixty-four thousand square feet of entertainment and dinning venues. There is also seventy-seven thousand two hundred and fifty square feet of retail space. With thirty thousand square feet of floor space, the casino service remains highly elegant. The company offers thirty-two thousand nine hundred and forty-two square feet of private function space, meeting, convention, and a nightclub.
Website: www.wynnineverett.com
Keno in Massachusetts: MGM Springfield:
This casino is designed on an eight hundred and fifty thousand square foot facility. The initial date for launching the casino center is 2017. However, there will be some delays from the developer. The casino platform will be designed to include retail space, residential center, entertainment, and dining. The casino will include one hundred and twenty-five thousand square feet of gaming space and covering more than fourteen acres. With twenty-five floors high and a two hundred and fifty room hotel the casino service remains the best to visit. There is 35,000 sq. ft. garden, a 7,000 sq ft spa and pool, 45,000 sq ft of banquet and meeting space, roof deck, retail, residential apartments, bars, restaurants and a 3,600 space covered parking area. The casino service has quality amenities that contains a state-of-the-art 20,000 sq ft bowling alley, an outdoor stage with free live entertainment, a casual dining, a 50,000 sq ft movie cinema with twelve screens, and a huge variety of retailers offering everything from designer clothing to gourmet gifts. The casino service is always open twenty-four hours daily.
Website: www.mgmspringfield.com
Keno in Massachusetts: Plainridge Park Casino:
Plainridge Park Casino is filled with all favorite casino games. It contains over one thousand two hundred hottest new slots that will help you catch the excitement of all moments. The slots platform displays the greatest and latest collections for video poker players. Players will not find any dealers or croupiers at local gaming tables. With virtual dealers on-screen, you can play several electronic table consoles. Players can as well find blackjack to give a great moment of fun. With Marquee Awards card, you will be able to play at any casino on this service. Using the service of Plainridge Park Casino will help you win great benefits and rewards. Plainridge Park Casino is one of the best Massachusetts services that you can find in the state. The official date of launching this casino service remains June 24, 2015. The casino service features one thousand two hundred and fifty slots with its one hundred and six thousand square foot renovation and addition of the existing facility. You will also find other electronic gaming machines such as intimate entertainment venue, a Doug Flutie's "#22" Sports Pub, a four-venue food court and upscale dining. You can give this casino service a try now.
Website: www.plainridgepark.com/
Our Most Popular Keno Casinos for United States: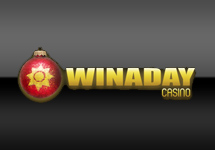 "WinADay Casino is the home of "Power Keno', the most populer online casino game with 7 Cards of Keno at once!"