MultiCardKeno.com » Live Keno »
Keno in Maryland

Maryland has become a highly competitive state in recent time thanks to its many gaming options. There are plenty of casinos around the state as well as a few horse racing tracks. Of course, Maryland has a state lottery with an extensive variety of games including many local games plus some of the more popular national multimillion-dollar games.
One of the most popular games to see in Maryland is keno. This classic numbers games entails people simply choosing from eighty numbers with the goal of trying to match as many numbers out of the twenty that are drawn as possible. The ability to pick as many numbers on a ticket as one wants is an especially popular part of what makes the game stand out.
There are plenty of places that people can visit when looking to play keno. In particular, people can easily find a good variety of different keno spots at places where Maryland Lottery games are sold.
The casinos and race tracks in Maryland do not have their own dedicated keno parlors or games. Rather, these places support the state-wide keno game that the state's lottery has to offer.
These places support the keno game as a popular option that will offer a variety of ways for players to win big. This makes for a noteworthy option for players to look for when they are playing with one of the most unique casino games in the world.
Keno in Maryland: Maryland Lottery
The Maryland Lottery has proudly offered a variety of state-wide games since 1973 including instant scratch game and many numbers games like the Bonus Match 5 and 5 Card Cash game as well as national games like Mega Millions and Powerball. The Racetrax virtual horse racing betting game has especially been a popular game among many players. However, it is the state's keno game that is especially popular.
The Maryland Lottery Keno game is one where players can choose from a variety of draws. It costs $1 for a game although a player can spend up to $20 on one if desired. The Packaged Keno To Go feature also allows players to buy into several keno draws for 25 cents per game. A player can buy into twenty consecutive draws for $5.
The Keno Bonus feature can be added for an additional dollar. This allows a player to potentially get up to ten times one's winnings. Meanwhile, a third dollar may be added to use the Keno Super Bonus to get up to twenty times the payout although a player will always get at least twice the total on a draw. The multiplier will vary in each drawing by random.
A player can also use from one to ten numbers on a draw. The prize structure will vary by each individual option. A player who spends $1 on a 10-spot game and matches all ten numbers will get $100,000. Meanwhile, a player who gets six numbers on that same game will get $10. The Maryland Lottery website has full information on the various pay tables used for each individual game. Also, the Packaged Keno To Go prizes are one-quarter of their regular $1-game totals, what with these games being worth a quarter each.
The best part of this is that a player can get a keno ticket anywhere Maryland Lottery tickets are sold. A player can always choose to watch the drawings online at any time although some retailers might have live television sets that will display the results as they come about in real time. Some convenience stores may offer these but it is often easier to find them in bars around the state and even at some of the different casinos and race tracks within the state.
The Keno App from the Maryland Lottery also makes it easy for players to keep tabs on keno drawings. Players can download the application for free and keep track of live drawings on their mobile devices. This is ideal for those who are in spots that don't have television sets that how live results as the results that come from the app are directly from the lottery organization. This offers a better organization that is easy to use when playing keno online.
Website: https://www.mdlottery.com/games/keno/
Our Most Popular Keno Casinos for United States: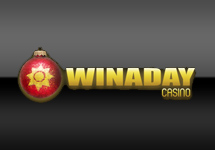 "WinADay Casino is the home of "Power Keno', the most populer online casino game with 7 Cards of Keno at once!"