MultiCardKeno.com » Live Keno »
Keno in Iowa

Iowa is no stranger to keno and other popular casino games. In fact, they have a pretty vibrant scene where you'll be able to play (and hopefully win) with plenty of options. Located far away from the popular Las Vegas, Nevada, Iowa still has plenty to offer when you're looking for a good time with over 20 different casinos with keno options to choose from.
The great thing is all of those casinos also have plenty of other features to offer as well. Whether you're looking for an opportunity to play some poker or some blackjack while you wait for your next round, you're not going to be disappointed.
Keno in Iowa: Lakeside Hotel Casino
With a 150 room hotel and 47 unit RV park available as well, you're never going to want to leave this casino which offers far more than just keno. In fact, it offers several different dinner options and an amphitheater for special events. But of course, you're interested in the gambling and there's plenty of that with over 1,000 slot and video poker machines as well as 13 table games including blackjack, craps, roulette and a whole lot more.
Keno in Iowa: Ameristar Casino Hotel Council Bluffs
With nearly 1,600 different slot machines and 23 table games, this casino is definitely raking in a whole lot of business. It offers a hotel with over 160 rooms and has everything from a fitness center to a pool and sauna, and that's not including the five different restaurants on the premises. So when you're not gambling you can have a great time still, but if you are gambling … well you're going to have to check out the riverboat casino, it's definitely a unique experience.
https://www.ameristar.com/?aspxerrorpath=/Council_Bluffs.aspx
Keno in Iowa: Diamond Jo Casino Dubuque
19 table games, nearly 1,000 slots and a whole lot more are going to make this an amazing option when you're looking for some fun. Nearly 2/3 of the nights have some type of entertainment going on so when you're ready to take a break for a little while there's something fun waiting for you, of course there's always the Mississippi Moon Bar and the Tree Bar, depending on whether you're looking for something wild or something a little more sophisticated for the evening. Top it off with five different restaurants and three levels of gaming and you're going to have a blast.
https://www.diamondjodubuque.com/
Keno in Iowa: Diamond Jo Worth Casino
Open 24 hours a day and 7 days a week, this casino has nearly 40,000 square feet of space for your gambling pleasure. It has live action poker games, 4 restaurants, a bakery and an event center so you can even plan special events here. Not to mention there's over 1,000 slot machines, 30 table games and live events going on every single weekend. So there's never a dull moment at this casino which also offers golf and hunting nearby.
https://www.diamondjoworth.com/
Keno in Iowa: Hard Rock Hotel & Casino Sioux City
A slightly smaller casino this one has a pretty awesome theme and still overs over 800 different slot machines. You can even play right on the bar so you never have to leave your drink and you can enjoy yourself for the entire night in the 50 room hotel. Top it off with a great meal at one of several restaurants and bars located throughout the property and you're not even going to notice the great entertainment available nearly all the time, though you'll love it if you check it out.
Hard Rock Hotel & Casino Sioux City | Entertainment | Gaming
Keno in Iowa: Horseshoe Casino Council Bluffs
If you're looking for one of the biggest casino's in the state then you've found it here because Horseshoe Casino offers over 68,000 square feet of gaming in the form of over 1,600 slot machines and 73 table games. Not to mention you can check it out 24/7 and get everything you need while you're at it. That's because this casino has everything from a small café to a steakhouse right on scene so you never even have to leave for a high class meal. Just enjoy the gambling and the gaming that's going on throughout the place.
https://www.caesars.com/horseshoe-council-bluffs
You'll find a whole lot of places to gamble in Iowa and you're going to love all the different options. These ones are some of the best and biggest, but that doesn't mean they're anywhere near your only options. So check out the keno in Iowa, but don't be afraid to try some other games too.
Our Most Popular Keno Casinos for United States: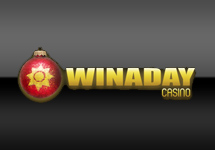 "WinADay Casino is the home of "Power Keno', the most populer online casino game with 7 Cards of Keno at once!"