MultiCardKeno.com » Live Keno »
Keno in Indianapolis

Indianapolis is the capital of the state Indiana, This has been one of those places that locals would love to keep to themselves. Indianapolis have the perfect blend of Bustle and Midwest mentality this makes this a great livable and lovely city to live in.
Keno in Indianapolis:
Well it is pretty much none existing unless you are planning to play online. Gambling is not exactly legal in Indianapolis. According to state law gambling is risking money or other property for gain. If you as a resident is found engaging in Illegal gambling you will be guilty of a class B misdemeanor on the other hand if a resident knowingly uses the internet to engage in illegal gambling they will be charged with a Class D Felony, so basically they do not take gambling lightly at all in this state. Land- based gambling might be completely prohibited but pari-mutuel wagering, state lottery, riverboat gambling, slot machines at racetracks and sale and use of gambling devices are not illegal in the state.
So just because Land-based gambling was illegal and not allowed in any way by the law there were individuals who were able to think out of the box and get pass this by establishing riverboats. Initially these casinos were required to go out onto the water before returning to shore but numerous states gave in after a while and they were allowed to be permanently moored. Indianapolis casinos now offer most if not all the slot and table games as all the other casinos these do include Blackjack, craps, roulette, poker, Baccarat, video poker and slot machines. Some of their casinos that operate today are Ameristar Casino & hotel, argosy casino and hotel, Belterra casino resort, French lick casino and a few more you need to be 21 or older to gamble here
Pari-mutuel betting is legal and you may wager on live horses at various times throughout the year. Greyhound racing however does not exist in the state but there is a few off-track betting establishments where you can go to view this. This gives you a bit more leniency if you want to bet seeing that you just need to be 18 to bet on these sports. The state did allow a few thousand slot machines that were added to the race tracks in 2007 a few of these tracks with slot machines are Hoosier park, Indiana downs, Trackside Indianapolis.
Indianapolis Lottery
So even the lottery in this state is quite unique because here the state moniker is used as its official name and this is why it is called Hoosier Lottery. This is based in Indianapolis and it is a member of the Multi-state lottery Commission, the lottery offers both local and multi-state drawings which brings in quite a lot of revenue. You must be 18 to participate in the lottery. Here are some of the draw games currently offered across the state.
· Daily 3 – which offers 13 drawings throughout the week
· Daily 4 – also offers 13 drawings per week
· Cash 5 – this is a $1 game and drawings are nightly
· Quick Draw – very similar to the Keno game you must buy a $1 ticket and choose your 10 numbers which ranges from 1 to 80. 20 numbers are drawn and if you get your 10 to match the pay-out will be $300 000. So this will be the closest to Keno that you will get
· Poker lotto – this is a two part game that will cost $2 firstly you will have to get a winning poker hand on your ticket and then there is a nightly draw
· Hoosier lotto – The cost per ticket is $1 drawings are every Wednesday and Saturday.
· Powerball – This is one of the multi-state lotteries with drawings twice per week
· Mega Millions – yet another multi-state lottery
Conclusion:
So you might not be able to go to a casino here and play Keno but at least one of their lotteries offer you a keno like game which you can play.
I think it is still shocking that casinos aren't legal in some stated but in some cases I guess it is for the best although most of us expect that there will be casinos everywhere we go but this is in fact not the case.
Our Most Popular Keno Casinos for United States: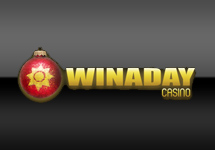 "WinADay Casino is the home of "Power Keno', the most populer online casino game with 7 Cards of Keno at once!"