MultiCardKeno.com » Live Keno »
Keno in Illinois

When in Illinois, there is plenty to see and do as there are many gambling hosts and casinos. Whether you prefer playing a slot machine, table game or even Keno, you can be sure never to have a dull moment in these casinos. Playing Keno in Illinois offers Electronic Keno. Over the entire state, you will find thousands of casinos that will give you the ultimate Keno playing. Here is a list of top casinos in Illinois that offer Keno playing.
Keno in Argosy Casino Alton
Being the earliest casino in the area, Alton Belle will meet all your entertainment needs and wants. It features about 14 gambling tables and more than 1, 0000 machines. Most of all, you can play the much-desired keno. To play Keno here, you need Keno tickets available in the Casino's lounge. The tickets are also located at tables throughout the Casino. You can play Keno here at any day of the week and anytime. Apart from playing Keno here, you will enjoy hassle free withdrawals and deposits on the slot machines.
Website: www.argosyalton.com
Keno in Harrah's Metropolis Casino
Harrah's metropolis is a casino that offers about 25,000 square feet of gambling space and serves about 2,000 players daily. Keno is made available in its 800 slots and video poker machines. There are additionally 22 table games. To play Keno here, you need to find tables specifically allocated for the game. If you want to play outside the casino lounge area, you can find Keno runners here that will collect your ticket and deliver your winnings. Harrah's Metropolis offers one of the best Keno in Illinois since there are television monitors to keep players informed of their Keno winning numbers.
Website: https://www.caesars.com/harrahs-metropolis
Keno in Hollywood Casino Aurora
When it's time to get your Keno playing on, or see a great live entertainment in a great restaurant, then Hollywood Casino Aurora will be the right place. There are over 40,000 square feet of gambling space and about 1,000 gaming devices. This ensures that you can enjoy electronic Keno in one of these devices. The casino is open all night and further features more than 20 table games. This is one of the best places to win big when playing Keno; you may have to lay your money down so as to win a jackpot. Keno playing beginners will also enjoy playing it here since it has small bets. After playing for some time, the game will offer an exciting pastime and one could soon win large payout with relatively small bets.
Website: www.hollywoodcasinoaurora.com
Keno in Par-A-Dice Casino review
Par-A-Dice is one of the best spots for entertainment and gaming in the central Illinois area. You will find 5 tables of live action, 21 table games and over 1,000 electronic gaming devices. You can play Keno in any of these electronic devices at any time and any day of the week. There four decks here that feature a contemporary European theme. To play Keno in one of its electronic devices, simply buy a ticket to start playing the game. You can watch the Keno game on the display board. If you win, display your winning ticket to one of the employees before the start of the next game. You can also play multiple Keno games here. Apart from playing Keno here, you can get entertained in one of its live entertainment and food facilities open throughout the week.
Website: www.paradicecasino.com
Keno in Fairmount Park Racetrack
Fairmount Park Racetrack casino is a top pick to play Keno since it offers discount prices for playing Keno and other games within the casino. There are cool prizes to be won here that could go up to $250. Apart from simply being a casino, it further offers an active horse racing venue; its track is about a mile long in a flat dirt area. This casino gives you a chance to enjoy racing and enjoy Keno playing.
Website: www.fairmountpark.com
Apart from the above top Casinos, Illinois features 17 casinos where you can find more than 10,000 slots to play Keno in Illinois. Bet ranges for playing Keno vary from as little as $0.01 to a maximum bet of $100,000. There is plenty to do and plenty to play in one of the above Casinos. Apart from simply playing Keno, all the above casinos have plenty of entertainment and restaurants to grab something to eat. There is never a dull moment when playing Keno in any of these Casinos.
Our Most Popular Keno Casinos for United States: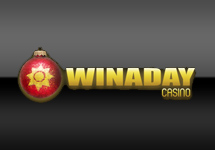 "WinADay Casino is the home of "Power Keno', the most populer online casino game with 7 Cards of Keno at once!"