MultiCardKeno.com » Live Keno »
Keno in Australia – Northern Territory

The Northern Territory is perhaps the most rural of all Australian states. Home to one of Australia's most defining natural feature, Ayers Rock, the casino industry still manages to utilize the resources at its doorstep. With just over 1,000 slot machines and approximately 100 table games, it's still easy to place a bet in the N.T
Including its capital city of Darwin, the Northern Territory has a total of 3 casino's spread out all over the state, including one in Darwin Racecourse. Although it has less casinos than other states, Keno is still quite affluent being played across numerous pubs, hotels, clubs and other licensed venues regulated by N.T Keno.
Keno in Darwin, AUS: Sky City Darwin Casino
The largest of all casinos in the Northern Territory, Sky City Darwin are the private organization that facilitates N.T Keno. Because of this, here at the Sky City, Keno is live ball operated instead of using the normal random number generated software and computers like other Keno plays. This means that the numbers are drawn live by a human dealer and televised across the Northern Territory.
The minimum amount bet able to be placed in N.T Keno is $1, including in online Keno play offerings. The full possible 80 numbers to be drawn from are used and 'x' continues to mark the spot on paper ticket Keno forms or online selections. One difference with N.T Keno is that although the game can be played online, results and number drawings aren't televised outside non-participating venues nor are available online, so remember to get your ticket checked by an operator to find out if your numbers have won.
Keno in Darwin, AUS: Lasseters Hotel and Casino
Lasseters Hotel and Casino is based in Alice Springs, a well-known rural city in the Northern Territory close to the frequently visited Ayers Rock, which partners with Crowne Plaza as the hotel.
At Lasseters a player can still indulge in standard or online ticketed Keno plays, as well as hedging bets with different methods to play. Similar to QuickPick with the lottery, Superplays is also offered in Keno. 10 Superplay options will set a player back around $15 for numbers chosen automatically, instead of manual selection.
Jackpot Games are also popular and offered as an alternative to the standard games which have a cap amount of possible winning payout. Jackpot Games accumulate a total prize pool that continues to grow until its one, as a maximum a play can select 10 spot jackpot games which might win x5 time the standard prize pool with N.T Keno.
Keno in Darwin, AUS: Online Keno Options
Although still pretty popular with physical plays at participating venues, Northern Territory Keno players also have strong ties with live dealer online versions.
N.T Keno strongly advocates for Emu Casino, Guts Casino and All Slots Casino for popular standard keno plays, online access to pooled jackpot games and better house edge than land-based venues for potential number draws.
If online Keno isn't a players comfort zone and making it to one of Darwin's casino isn't an option then there are also many other participating venues all around the Northern Territory to place some bets on Keno numbers. Some of the more visited locations in the N.T that have Keno friendly venues include Katherine, Tennant Creek, Jabiru and Cape Crawford.
Our Most Popular Keno Casinos for United States: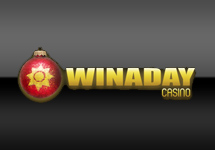 "WinADay Casino is the home of "Power Keno', the most populer online casino game with 7 Cards of Keno at once!"