MultiCardKeno.com » Keno Knowledge Base »
What are keno patterns?

You might be a fan of Keno game at your nearest pub, but playing Keno online has its benefits and charm. You can play Keno game online from anywhere be it at your home or office. You also stand a chance of winning higher payouts as compared to playing land-based keno game. You might have come across the word "Keno Patterns" and want to know its meaning. This article will explain what keno patterns are and how you can play them.
First, you have to understand that Keno game makes use of Random Number Generating System to extract the numbers; in this case random numbers, without any relationship with the next or previous extractions. If you have ever played online keno, you might have noticed a random number that the computer fills in four or three numbers in a column or row.
There are various patterns that can be observed after observing a particular game over a long period. The keno algorithm provides patterns that gamblers need to follow. Players who know how to select those patterns stand a high chance of winning. If a player understands how the program works, he can easily win at any keno game. You can identify these pattern numbers after carefully examining various game sessions.
How to Select Keno Patterns
Selecting a pattern in any game is always a hard task; it requires a lot of study and patience. Select consecutive numbers when playing cold or hot numbers. Keno patterns mostly depend on the way the numbers are extracted in various sessions. You should look for numbers that are repeating more often. Some players will use their birth dates or any other anniversary they deem important in their lives.
The Most Famous Keno Patterns
Keno punters always follow the famous patterns of the game. They either use their birth dates, databases and statistics, observing the numbers which are extracted mostly and to have fun.
It is important to know that all the numbers are random and does not follow a particular pattern. However, choosing the patterns in an online keno game is the enjoyable part of the game. It is good to know that none of the patterns increases your chances of winning. Players can choose any method that will give them more fun.
One option is to leave the responsibility of selecting the pattern to your computer. Online casinos offer software that helps you to select the random spots. Players can add fun by selecting dates that have a meaning in their life. It can either be your birthday or marriage anniversary. The simple patterns that you can use include Arabic numerals or alphabetical letters. You can use simple shapes like circles, squares, and triangles. If players opt for their birth dates, then they can include a cake to make it more colorful.
It is good to remember that you do not need to strategize much for you to succeed in a keno game. It is also good to know that this game is based on luck. It is also hard to predict the winning numbers because all the lucky numbers are randomly picked by a computer.
Our Most Popular Keno Casinos for United States: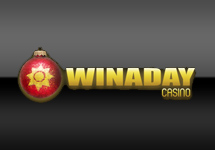 "WinADay Casino is the home of "Power Keno', the most populer online casino game with 7 Cards of Keno at once!"