MultiCardKeno.com » Keno Knowledge Base »
Using The D'Alembert Betting System

The D'Alembert betting system is a negative progression system that can be used when gambling. It is traditionally a betting system that is used when betting on even money propositions, but it can be tailored to be used when playing any casino game. So you can certainly use the D'Alembert betting system when you are playing keno.
The first thing to get out of the way is that using the D'Alembert system when playing keno is not going to break the bank, it is not even going to guarantee that you win more often. Like all betting systems, it really should just be used to add a bit of fun to your keno playing session. Although the D'Alembert betting system is one of the more boring systems out there, as it does not require you to think too much, if at all.
The D'Alembert betting system is a reasonably simple one – every time you make a losing bet, you increase your wager amount by 1 unit. Every time you make a winning bet, you decrease your wager amount by 1 unit. So you need to work out how much one unit is. When playing keno, because the game is a low-stakes game it is best to put a value of $1 for 1 unit. This also means that you should never fall foul of the casino's house limits on how much you can wager on a single game, which is one reason as to why betting systems such as the Martingale betting system are doomed to failure instantly.
With your unit value decided, the next thing you have to do is decide on your wager. Keno revolves around picking numbers, so decide on how many numbers you are going to pick, and then pick your numbers. The amount you win depends on two things – the amount of numbers you have chosen and the amount of numbers you match. So, if you picked 2 numbers and matched both, it would pay out differently to picking 3 numbers and matching 2. For our example, we will go with picking 6 numbers. In many keno games, you can pick up to 20 numbers, but to get paid out you need to hit a lot more numbers.
Now to implement the D'Alembert betting system. Our first keno ticket will cost us $1. Since we have picked 6 numbers, we need to hit 3 to get our money back, 4 pays odds of 5-1, 5 pays odds of 79-1 and all 6 pays odds of 1,799-1. So, if we hit 4 or more numbers, our D'Alembert progression ends because our bet had made us a profit, if we hit 3 numbers we bet the same again (because we broke even), and if we hit 2 numbers or less we continue on our D'Alembert progression.
Our first ticket hits 2 numbers, so we are losers. That means we add 1 unit onto our bet, so our next bet is a $2 bet. We hit 1 number this time, so we lose again. Another 1 unit goes on to the bet, so our next ticket is worth $3. The $3 ticket hits 4 numbers, so we win $15. After losing $3 on our previous bets, we have made a profit of $12.
The D'Alembert betting system looks like a sure-fire way of winning eventually, but the reality is that you can go for a long, long time before you win at keno. This betting system is based around the idea that your numbers eventually have to come up – this is Gambler's Fallacy. The previous keno results have no bearing on any other result. Along with this, if you go on a long losing streak (which is possible when playing keno), the amount you wager could start to become a substantial part of your bankroll. If you get to a $20 wager, you will have already lost $190 to the house, and that is quite a bit to lose when playing what is supposed to be a low-stakes game.
The recommendation when playing keno is to stick to small bets with more numbers so that when you win, you win big. After all, the reason you play keno is to hit the big time, so why not do it for as small an outlay as possible?
Our Most Popular Keno Casinos for United States: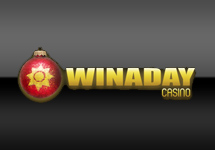 "WinADay Casino is the home of "Power Keno', the most populer online casino game with 7 Cards of Keno at once!"