MultiCardKeno.com » Keno Knowledge Base »
Keno Variations

Keno, by itself, is a great, easy and exciting game to play. And it's because of the ease of play, excitement level and overall fun of the game that we Keno players now have plenty of different variations of Keno to keep us coming back and wanting more. And when you throw in the awesome new technology available to us that wasn't there 20 years ago, the world of Keno has gotten so much bigger.
Below we are going to go over just some of the amazing Keno variations available online. Be sure to check out some of the Casinos that offer Keno for their full list of available variations
Single Card Keno

– The oldest and easiest form of Keno that there is. Pick numbers and catch numbers to win. The more you catch then the more you win.

Multi-Card Keno

– Keno played the same way you would play when using a single card. Players can play on up to 20 cards at the same time at some casinos. The added cards mean added excitement, higher winnings and a better Keno experience.

Mobile Keno

– Thanks to technology, Keno players can now enjoy the game from anywhere using a smart-phone, tablet or any other device that will allow the player to connect to the internet.

Power Keno

– Played the same way as you would play Single Card Keno. Power Keno has the added bonus where if the player manages to catch the 20th number drawn then the players winnings form that round will be quadrupled

Super Keno

– Played the same way as normal Keno but if the player is able to catch the first number drawn then their winnings are increased dramatically. A great way to not only better the potential winnings but to also add an amazing excitement factor to the game.

Keno Slots

– A Keno themed Slot game. Players can select more numbers then they would during a normal game of Keno. Games run faster then normal Keno so the player can play more games in less time. Huge jackpots available

Keno TV Show

– A hilarious version of Keno. Its like you are sitting at home playing along with a television game show of Keno. The announcer is super cheesy which only adds to the authentic vibe of this game. Its like being transported back into the 80's

Keno Roulette

– Play Keno where the goal is to match, or catch, winning numbers or groups of numbers the way you would during a game of Roulette. The more outcomes you catch the more you win.

Video Keno

– Played just like a regular version of Keno. Video Keno allows players to fully customize their Keno experience which makes it a much more personal version of Keno. Games run through very quickly which gives the player more games played in less time which also translates to more winning potential

Cleopatra Keno

-Cleopatra Keno is yet another awesome and unique take on the game of Keno. Cleopatra Keno is a video keno game with a free play bonus if the last number drawn is caught by the user. Catching the last drawn number will give the player 12 free plays in a bonus game where winnings during the bonus plays are multiplied by two.

Caveman Keno

– A fun and unique approach to Keno. Caveman Keno sees 3 eggs appear on non-chosen spots after the player begins game play. If 3 eggs turn into dinosaurs, the player wins eight times more then they would have won.2 Eggs that turn into dinosaurs will awarded tge player with four times the winnings.
Again these are just a few of the many fun and unique variations of Keno. Be sure to check in with each Casino to see their full list of Keno games to find one that you will enjoy.
Our Most Popular Keno Casinos for United States: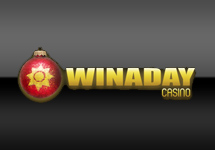 "WinADay Casino is the home of "Power Keno', the most populer online casino game with 7 Cards of Keno at once!"