MultiCardKeno.com » Keno Knowledge Base »
Keno Tutorial / How To Play Keno

For people new to the game of Keno, it may seem a bit overwhelming with all of the numbers and different odds associated with each number. But believe me when I say this, Keno is the easiest and most relaxing game you will ever play. This game has been around for a very long time and it's due to the ease of play that this game has been able to stand such a long period of popularity.
If you are new to Keno then this article will explain how to play and by the end of this I hope you will have no problem understanding the wonderful game and should be able to play immediately.
First lets explain the Keno card. The Keno card is a list of the numbers 1 – 80. And where all of the action will take place. The goal of Keno is to guess which numbers of the numbers 1 – 80 will be drawn. Correctly predicting numbers will win you money, the more you predict then the more you will win.
You first step is to determine how much you would like to bet or wager on the round of Keno. Wager amounts differ from casino to casino. The best strategy for determining your wager is to bet an amount you would be comfortable with losing. That's not to say that you will be losing but as with any game in the world you can't win 100% of the time.
After making your wager you will now need to pick your numbers. The amount of numbers you can pick is different at each casino, online or real, but the amount of numbers played only affects the maximum winning amount and not the game play. Most places will allow you to pick from a range of numbers usually in the 5-20 range. You pick your numbers by clicking or selecting the numbers right on the Keno card itself. The more numbers you pick the the higher the maximum winning amount will be. Picked numbers can be picked at random, can be lucky numbers, a special day, the possibilities are virtually endless.
After you have chosen your numbers, you can look them over to make sure you are happy with them before beginning the game, you are now ready to start the round. Clicking play will begin the game.
20 numbers will now be drawn at random. For each number you match, the correct term for matching a number in Keno is to Catch a number, you will mark it off on your Keno card. At a real Casino you can circle or check the numbers as you catch them, at an online Casino the numbers will automatically be marked as caught for you on the Keno card.
The more numbers you catch, the more you win. Each Keno game has a pay-table for players to see and its important for the players to have a look at the pay-table before playing to find a table with the best payouts.
Based on your initial wager, the amount of number you choose and the amount of numbers you managed to catch will all affect how much you win for the round of Keno.
After you have figured out how much you have won you are now ready to begin another round of Keno. Online casinos offer players a chance to multiple rounds of Keno using the same wager amount and numbers and the games will continue to play for the selected number of games. Winning money collected during an auto play session will automatically be deposited into your account. This is a great way to play as the speed of the online game is amazing and its nice to auto play 20 rounds and step away for a minute only to come back and see you account balance much, much higher then when you left. Online casinos also give players a Quick Pick option where the game will select 5-20 random numbers for the player.
I hope this helped you to understand Keno. It really is the easiest game to play and I would recommend a player to just try it without knowing anything about it as the player will quickly see just how easy it is.
If you are looking for a nice, easy and relaxing game to play with the potential to win some decent money then be sure to give Keno a try.
Our Most Popular Keno Casinos for United States: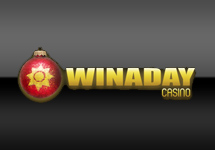 "WinADay Casino is the home of "Power Keno', the most populer online casino game with 7 Cards of Keno at once!"