MultiCardKeno.com » Keno Knowledge Base »
History of Keno & Multi Card Keno

Although the word Keno has French and Latin roots, there is no doubt about it that the game first began in China some 3000 years ago and even helped fund a war. More impressive is that it is also rumored to have help fund the construction of something called The Great Wall of China, you may have heard about it. The game of Keno has changed quite a bit since it was first created from the amount of numbers available to play on a card to the name itself but a few things have stood the test of time and remain unchanged and that's the excitement and playability of the game offering players a fun and easy way to play with the potential for large payouts all of which have helped Keno sustain its popularity for such a long time.
Once Keno made its way to Europe and the United States it was an immediate success. When Chinese sailors arrived on the shores of San Francisco they had brought the game with them changing the Chinese symbols to numbers so that Americans could read it and although gambling was legal lotteries were not so with a few tweaks to the game they disguised it as a horseracing game until lotteries became legal.
But as with everything in life people will change it for the better once they figure out a way and the way to change a solid and flawless game like Keno was to add the ability to play with more than one card thus improving excitement and your chances of winning and on July 15th 2010 the game of Keno as we know it would be changed for the better forever.
By adding the ability to play with multiple cards WinADay Casino hit the jackpot. Not only does it add to the excitement of an already exciting game but they also improved your chances of winning and who doesn't love that idea. Also included in the announcement of Multi Card Keno and to celebrate the launch, WINADAY offered some pretty amazing promos for players willing to try their new game: Keno Best Betters and Keno Gift Draw.
With Keno Best Betters WINADAY held a promotion that rewarded frequent Multi Card Keno players the chance at winning up to $500. By being one of the 20 players with the most total bets for a week you were guaranteed money. The Best of the Best bettor would receive $500 the next 4 would get $250 each and the next 5 $100 and the remaining 10 getting $50 all in all they gave away $2500. What better to launch a new game than by giving frequent players to your new game money just for playing.
Keno Gift Draw was a gift for anyone that played at least one round of Multi Card Keno. After playing one round players were automatically entered into a draw and at the end of the week 5 players names were drawn and the winners received $75.
So not only did WINADAY alter gambling history with this major game changer they also made it just as easy to play as single card it looks amazing, runs smoothly and overall it is just an amazing game. But go see for yourself. A game that's been around for 3000 years and is still played today there must be something about it that keeps players coming back and after playing the game you'll see why.
Give WinADay Casino a try.
Our Most Popular Keno Casinos for United States: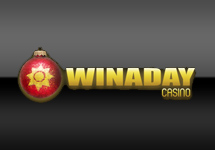 "WinADay Casino is the home of "Power Keno', the most populer online casino game with 7 Cards of Keno at once!"