MultiCardKeno.com » Casino Reviews »
Loco Panda Casino Keno Review

Loco Panda Keno Review
Using RTG software, Loco Panda Casino (Now Closed: Try Power Keno at WinADay instead) is a colourful and smooth running casino that Keno players will love to visit. There is a maximum payout of $250,000 dollars for this game and that's a huge amount of money to be won for such a simple and easy to play game.
Standard Keno rules apply for Loco Panda's version. The Keno board is in the Center of the Screen, to the left is the Paytable and to the right is the round breakdown table. Below the game board there are many features that are available and listed on large and easy to read buttons. Select clear to clear your numbers and select a set of new numbers. You can choose Play 1, Play 5 or Play 10 to run through 1, 5 or 10 games in a row with the same wager and numbers. By choosing Quick Pick 10 numbers will be randomly selected for you
$0.01, $0.25, $1.00, $5.00 and $10.00 are the betting limits for Loco Panda Keno and your wager can be changed by clicking on the arrows to the left to lower and right to raise of the dollar amount listed at the center of the bottom of the Keno board.
Play Loco Panda Keno
To play Keno at Loco Panda Casino (Now Closed: Try Power Keno at WinADay instead) you will first need to visit the Casino and download the free casino. Afterwards you will need to complete the quick and easy sign up process and then you are ready to play. But before you play Keno check out all the bonuses and Promotions that Loco Panda hands out to new and returning players. You will regret it if you don't take advantage of the free money they are giving out. I like money and I'm sure you do also so be sure to take a look as there is nothing better than winning big on the casinos money!
Once signed up you will be directed to the main screen of Loco Panda Casino. You will see the games categories at the bottom of the screen and Keno is listed under the Specialty option.
How to play Loco Panda Keno
Players familiar with Keno will have no problem understanding this version of Keno but for players new to the wonderful game of Keno I'll run through the steps and after reading this you will have no problem playing Keno at Loco Panda Casino (Now Closed: Try Power Keno at WinADay instead).
You first need to decide how much you are willing to bet on the round of Keno. You can bet $0.01, $0.25, $1.00, $5.00 or $10.00 per round. After setting your wager you now will need to select your numbers. You can choose 1 number or up to 15 numbers of the 80 available numbers. To select a number simply click on it to highlight it. You are now ready to play a round of Keno to do this choose the Play 1 button and the 20 numbers will be drawn. Missed numbers will be shown as a red X on the board while winning numbers will be highlighted in a gold color.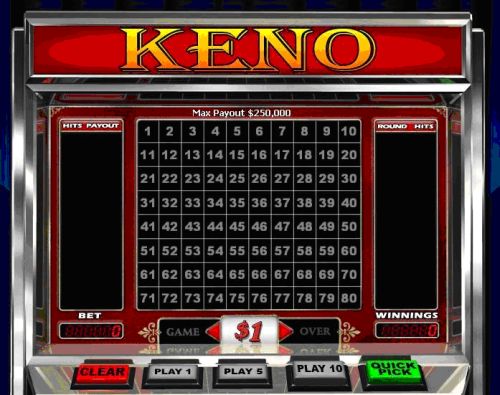 If you are comfortable with your numbers and would like the game to play through 5 or 10 games in a row then select the Play 5 or Play 10 options below the Keno Board. You will also have to bet the same amount for those 5 or 10 games so if you are betting $5.00 and choose the play 10 option then all 10 of those rounds will have a $5.00 bet placed.
To clear numbers and select new ones click the big red Clear button below the Keno Board.
The Paytable to the left of the Keno Board will break down your potential winnings before you start a round. The more numbers you play then bigger reward you can win. The Breakdown table to the right of the Keno Board breaks down the round or rounds that were just played.
Loco Panda Casino (Now Closed: Try Power Keno at WinADay instead) is a nice, clean and simple version of Keno with decent betting limits that will work for players of all skill levels. This is a great Keno game for new players or players who just like to play Keno without any distractions. If this sounds like a game of Keno you would like to try then head ove to Loco Panda and go "crazy"
Our Most Popular Keno Casinos for United States: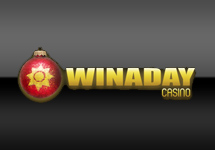 "WinADay Casino is the home of "Power Keno', the most populer online casino game with 7 Cards of Keno at once!"