MultiCardKeno.com » Casino Reviews »
Grand Parker Casino Keno Review

Grand Parker Keno Review
Grand Parker Casino (Now Closed: Try Power Keno at WinADay instead) is not only a great online casino that has plenty of options for games to play but they also have one of the better options for Online Keno that you will find online. There is a maximum payout of $250,000. Grand Parker Casino uses Realtime Gaming software to ensure a smooth and fast running Keno experience.
This game has some impressive betting limits allowed. Players can wager; $0.01, $0.25, $1.00, $5.00 and $10.00 per spin. Another nice feature used in this version of Keno is Autoplay which is the ability to play multiple games in a row. By simply choosing one of the buttons marked; Play 1, Play 5 or Play 10 then the game will play the chosen number of games consecutively with the same wager and numbers for each game.
Grand Parker Casino's Keno game runs just like all of the other Keno games you have come to know and love so the learning curve is very minimal. The center of the screen is the Keno board where all of the action takes place. To the left of the Keno Board is the Paytable which shows you how many numbers you have played and how much you will win when you hit a certain amount of your played numbers. To the right of the Keno Board is the round history table. You will use this table to breakdown each round you have just played and to keep track of the rounds you played while using the Autoplay feature.
Playing Keno at Grand Parker Casino (Now Closed: Try Power Keno at WinADay instead)
Once you arrive at Grand Parker Casino your first step is to download the quick and free Casino software. After downloading you will need to login or create and account which is also a simple and quick process. Once you have finished registering take a minute to look through some of the awesome bonuses and promotions that they have for new players to the Casino. Its free money that they're going to give you so you might as well advantage of it.
Ok after you have signed up and claimed your free money now you are ready to get to winning more money at Keno. To find Keno open Grand Parker Casino (Now Closed: Try Power Keno at WinADay instead) and you will be taken to the main screen of the casino where all of the games are broken down into categories based on the type of game. Keno is listed under the "Specialty" menu option.
Once you are in the Specialty section there will be three options of games; Table Games, Keno & Bingo and Scratch Cards. So you will obviously choosing the Keno & Bingo section.
How To Play Grand Parker Keno
If you know how to play Keno then you will have no problem picking this version up. But for new players they do a great job of making this one of the most simple and easy to use versions there is.
You first step is to determine how much you want to bet for this round of Keno. You can wager $0.01, $0.25, $1.00, $5.00 and $10.00. You can change you wager amount by select the red arrows to the left and right of the $ amount at the bottom of the Keno board.
Now you will be choosing your numbers. You can choose 1 number or any amount of numbers up to 15 numbers of the available 80 numbers on the Keno board. To select a number all you have to do is click on that number and once you select it you will see that it becomes highlighted. Once you are happy with your wager and numbers you are ready to begin.
To play a round of Keno select Play 1 and the round will begin. Missed numbers will be marked on the Keno board with a red X while winning numbers will be glowing yellow. After the 20 numbers have been drawn the round is over. Check out the results and payout on the round breakdown table located to the right of the Keno board.
Here's what it looks like: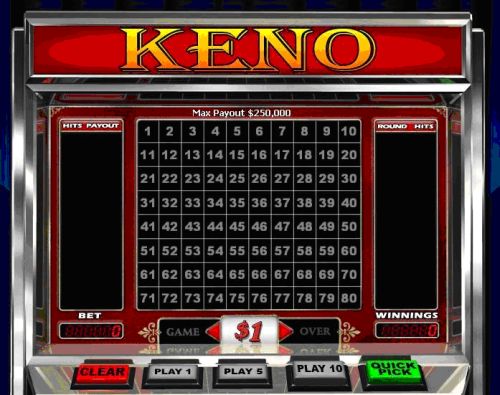 If you would like to play 5 or 10 games in a row instead of choosing Play 1 then select Play 5 or Play 10.
To have the game randomly select 10 numbers for you then select Quick Pick. To erase all of the numbers you have chosen and wipe the Keno Board clean choose the Clear option.
This is a great version of Keno with Table Limits that will appeal to all players no matter their skill level. Head to Grand Parker Casino (Now Closed: Try Power Keno at WinADay instead) and give this game a try.
Our Most Popular Keno Casinos for United States: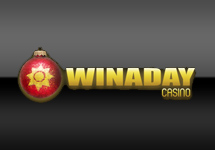 "WinADay Casino is the home of "Power Keno', the most populer online casino game with 7 Cards of Keno at once!"