MultiCardKeno.com » Casino Reviews »
Da Vincis Gold Keno Casino Review

Da Vinci's Gold (Doesn't accept Americans; play Power Keno at WinADay instead.) uses Rival Gaming software to power all of their games. This means that each game has a very pleasing visual display to it and runs smoothly, both extremely important when playing at an online casino. Another nice advantage to their using of the Rival Gaming software is that the download is compatible with both Mac and Windows. The software also includes: simple to use promotions, a real-time player history, a VIP system, and a very reliable cashier program. All of these features make Rival Gaming software one of the most user friendly online gaming applications in existence. Da Vinci's Gold has two different types of Keno to play: original and Vegas Jackpot. While this casino doesn't have the largest variety of Keno games available when compared to other online casinos, the rich visuals, flawless playing experience, and excellent customer support make it an enjoyable place to play.
Play Keno at Da Vinci's Gold (Doesn't accept Americans; play Power Keno at WinADay instead.).
Before you are able to play Keno at the Da Vinci Gold you will need to download their software. This is an easy download to perform and their website provides step-by-step instructions that should make downloading the software easy for even the most technologically inept. After the download is completed you will be able to choose if you want to play for real money or just for fun. After making your choice you'll have to register your account by providing basic contact information. After that's finished you will need to create a username and password, which you need to save. Make sure to keep an eye out for promotions and new first time player bonuses. They change frequently and are worth paying attention to.
Depositing money at Da Vinci Gold Casino
Depositing money into the casino has been designed to be quick, easy, and most importantly, secure. To add money into your account all you need to do is navigate to the cashier and deposit money through one of their many payment options. After that you will have to fill in some more personal information pertaining to the payment and then the transfer will be completed.
Keno Games at Da Vinci Gold Casino
Both of these version of Keno are fairly straightforward in that you are able to select the numbers and amounts. They are both pretty basic but allow for slightly different experiences and payout options for the player. As the name implies, Vegas Jackpot Keno has higher payouts than the standard Keno game. I'd recommend having a better look over at Da Vinci's Gold (Doesn't accept Americans; play Power Keno at WinADay instead.).
Keno
This is your basic game of Keno for those who don't need a whole lot of frills to have a good time. It's an 80 ball keno where you get to pick fifteen numbers and twenty balls get drawn. The payouts are in line with microgaming Keno and there are six picks that payout 94%.
Vegas Jackpot Keno
This is your standard game of Keno but with the potential for even higher payouts. The player will be able to choose up to ten numbers, between 1 and 80 by clicking on the desired numbers, or if you aren't too particular then you can just let the computer pick the ten numbers for you. If you match zero numbers than there is a payout 11x the wagered amount. Matching all ten numbers earns the player a payout of 100,000x the wagered amount. The minimum bet is $1.00 and the amount you bet will not affect the odds.
Customer Support
The customer support options at the Da Vinci Gold Casino seem to be very good. They have live chat where trained reps can answer your questions, during standard business hours, and help you with any issues you might be having while trying to play. They can also be reached by email for any issue related to playing or monetary issues like: correcting payouts, fixing incorrect balances, and helping you to withdraw or deposit more money into your account. They also encourage players to call if they have any issues if you don't mind being put on hold. Overall Da Vinci Gold Casino does a lot to make sure that their members have a strong support staff available to them in case the need it.
Overall
What the Da Vinci Gold Casino lack in variety of keno games it makes up for in ease of use and customer support. That, along with a very simple and intuitive money withdraw/deposit feature, makes it one of the better options for playing keno online.
Our Most Popular Keno Casinos for United States: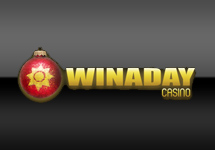 "WinADay Casino is the home of "Power Keno', the most populer online casino game with 7 Cards of Keno at once!"