MultiCardKeno.com » Casino Reviews »
Bet365 Keno Casino Review

First let me warn you – when it comes to Keno, there are better online casinos than Bet365.
The reason for that is the selection of games for a Keno player at Bet365. They have three separate Keno games. They have "Keno", "Fortune Keno" and "Keno Xperiment".
3 games isn't bad to be honest – many online casinos only have 1 game. And Bet365 Casino also has a wide variety of other number related games, such as Dice Twister, Rollercoaster Dice and Pop Bingo.
When it comes to Keno games, Bet365 are around the middle of the pack. Where Bet365 really excel though are – well, everywhere. They are without a doubt the best online gambling website around, with an amazing sportsbook and a fantastic online casino. Their bonuses offered are incredible and yeah – even though they're only just average for Keno, they're a casino you should really have an account at.
Keep reading to learn more, or head on over to Bet365 Casino (Doesn't accept Americans; play Power Keno at WinADay instead. right now for the best online casino experience of your life.
Keno Games At Bet365 Casino:
Bet365 Casino offer the following Keno Games:
Keno: A basic form of Keno which has the options of betting from as low as $0.20 all the way up to $10 per Keno game. You can choose to either Play One game at a time, or Play Five at a time.
Keno Xperiment: With a max win of 10000x your initial wager, Keno Xperiment has a really cool visual appeal to it. It offers the same betting limits as Keno, which is $0.20 to $10. You can choose to play once or five times in a row, and you also have the option of the Keno game picking randomly for you. Not just that – you can choose to play five rounds, pick X amount of numbers per round and then randomize the numbers. Really nifty.
Fortune Keno: This interesting take on Keno has a gypsy vibe to it – you get the fortune teller, the crystal ball, the works. The animations and so on are nothing too special but it's still a fun game to play.
That's all of the Keno games available at Bet365 Casino (Doesn't accept Americans; play Power Keno at WinADay instead. if you download their casino. However they also have "Bonus Keno" in their online one which has a progressive jackpot.
Bet365 Casino Software:
Bet365 use the 2nd most popular online casino software out there, which is Playtech. They also have a wide variety of games available from other casinos software prvodiers which is awesome – this means you get one of the best gaming experiences possible at Bet365 with so many games to choose from.
Their software is available as both a downloadable version and a flash version, and you can play on your smartphone as well.
I'd recommend going with the instant play software – the one where you play it in your browser. That's the one where you can access a lot more games.
Bet365 Casino Keno Betting Limits:
The betting limits for Keno at Bet365 Casino are as low as $0.20 all the way up to $10.
Deposit and WIthdrawal Methods at Bet365 Casino:
Bet365 offer practically every deposit and withdrawal method there is. I'd list them all but in short – you'll have no problem either depositing money at Bet365, or withdrawing your funds. I should also note their withdrawals are super fast – I've used Skrill and Instadebit, and I get my withdrawals within about 3 hours.
Bonuses at Bet365 Casino:
I should note Bet365 offer bonuses for their poker room and sportsbook. As of this writing there is $6,000 in bonuses every month at Bet365 Casino. Basically you can deposit 4 times per week and claim a bonus every time, using the bonus code BONUS3000.
This could change so be sure to head over to and check out the promotions section. The bonuses have a low 25x wagering requirement.
Bet365 Casino Customer Support:
Bet365 offer the best customer support you can find. They have live chat, telephone and e-mail support and their support staff are smart and friendly and I've never had a problem with them. I've used them previously for soccer bets and they've helped me out a lot.
In short – yeah, everyone needs an account at Bet365 Casino (Doesn't accept Americans; play Power Keno at WinADay instead..
Our Most Popular Keno Casinos for United States: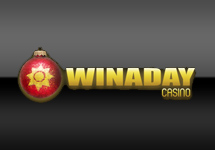 "WinADay Casino is the home of "Power Keno', the most populer online casino game with 7 Cards of Keno at once!"