MultiCardKeno.com » Casino Reviews »
5 Great Keno Casinos for Canadians

If you are a Canadian and looking to play Keno online, then this article is for you.
I've always found Keno lacking when it comes to land based casinos in Canada. It's almost like an afterthought. Vegas casinos will dedicate an entire section to it. Casinos in Canada have a small area with a few tables and that's it.
I've also found it's not very welcoming. I've attempted to play keno at a few casinos in Canada, and haven't been impressed. I have to go find the attendant to get a ticket, and they never notify me of any special promotions or anything running.
No, I much prefer to play my Keno in Canada online. There are a lot of great online casinos out there, as this article on real money bingo attests to. We are lucky in that we have a wide variety of online casinos to play at, and the deposit bonuses usually clear at a 100% ratio for Keno as well.
Here are 5 of the best online casinos for Canadians looking to play Keno:
CasiGO: If you're a fan of clean designs, then you can't go wrong with CasiGO. It's one of the cleanest and most professional designs of any online casino out there.
They accept Canadian players and all of their bonuses are in Canadian dollars.
CasiGO has an incredible game selection, and three separate Keno games. They offer games from various different software providers, and I've read that if you request a game they don't have, they will often work to have it listed.
Currently, CasiGO has three separate Keno games, all from 1×2 Gaming. They have Keno Pop, Tutan Keno and Firefly Keno.
All of the Keno games available at CasiGO are easy to play. Keno Pop is probably my favourite of the three. It's a very visually appealing game with fun animations and great colours. It allows you to pick up to 15 numbers out of the 80, with the odds changing depending on how many you pick.
Keno Pop is a very vibrant Keno game, and highly recommended.
Casino Classic: Casino Classic uses the excellent Microgaming software, which means you know you are going to have a very solid experience playing Keno.
They have quite a few different keno games, but Microgaming Keno is probably the best. It's a nice and simple keno game with a solid payout structure.
Casino Classic also offer an excellent deposit bonus for new players, and also offer the chance at becoming an instant millionaire, with no deposit required.
Jackpot City Casino: Jackpot City is one of my favourite online casinos. They have been around for decades, and are doing a great job when it comes to catering to Canadians. Since the Ontario regulation in particular, they have really stepped up their game when it comes to bonuses. For example, the chance for 10 daily spins where you can win a million dollars.
When it comes to Keno, Jackpot City have a solid variety of keno games which can be played on your computer, or on your mobile device.
Ruby Fortune Casino: Ruby Fortune is a very attractive online casino. They offer a $750 bonus spread out over your first three deposits. Each deposit is a 100% match to $250, for the total of $750.
It also requires just a minimum deposit of $10 so you can test the casino out for just a small amount.
Ruby Fortune has over 550 casino games, including a good variety of keno games. All of their casino games are available to play on a mobile device too.
If you are a Canadian looking to play keno online, Ruby Fortune is an excellent choice. They are a very professional casino.
Spin Casino: I wanted to mention Spin Casino in particular, as they offer something different than many other casinos. They offer something called "Video Bingo". If you like keno then chances are you also like bingo, and you will have to try out video bingo.
It's a new twist in that you don't have to mark the numbers off by yourself – it does it for you much like in Keno. It takes out a lot of the complications when it comes to bingo as you can't make any mistakes and miss out on a number. With the auto-daubing, it means that they can offer up a bigger variety of patterns which you can win from as you don't have to call bingo.
The patterns range from very simple to very complex, with the more complex patterns resulting in a bigger payout.
The video bingo games at Spin Casino also offer the ability to buy multiple bingo tickets as well.
The best part of the video bingo games is that they are all themed based on popular slot machines. So you can play the likes of Thunderstruck II Video Bingo, Immortal Romance Video Bingo and 1524 Golden Quest.
Spin Casino also offer both android and iPhone apps along with playing in your browser, and are an excellent choice for Keno players.
Our Most Popular Keno Casinos for United States: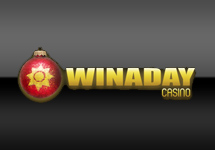 "WinADay Casino is the home of "Power Keno', the most populer online casino game with 7 Cards of Keno at once!"