MultiCardKeno.com » Blog »
Keno Scratch Card Blog #5: Lucky Red?

Welcome to the 5th Keno Scratch Card blog here at Multi Card Keno.
It took 4 blogs but we finally had a winner – although not really on Keno. Last time, we got a free entry to the daily Keno draw that takes place – and I won jack. Oh well. We ended up nailing $3 on the bonus Lucky Lines card that showed up last time so that isn't too bad.
We're going to go back to pure Keno this week. Hopefully our luck will pan out. I think in a couple of weeks I'll even take the Free $25 at Classy Coin Casino and try some actual scratch cards or Keno games with it.
So this week we're going with the red keno card: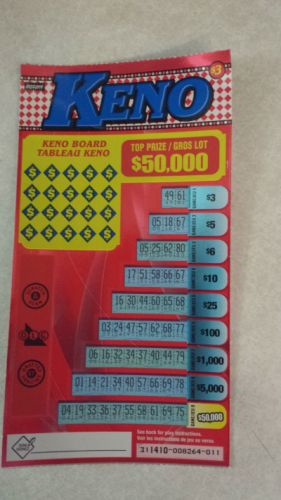 It's a real no frills card but whatever – $50k is the massive prize and I WANT IT BAD. I checked the store before I left and there's apparently 1 grand prize remaining. Let's hope that one is us.
So the first scratch gets us 40, 58, 65, 05 and 21. Nothing real notable yet although getting 1 out of 3 for $5 is good – the card cost us $3 so hey I'll take any profit at the moment.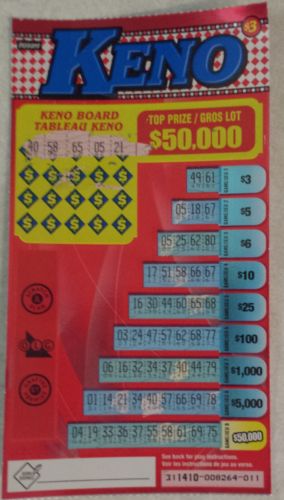 Onto the next row – and we have 77, 60, 55, 36 and 32. Nothing really good there: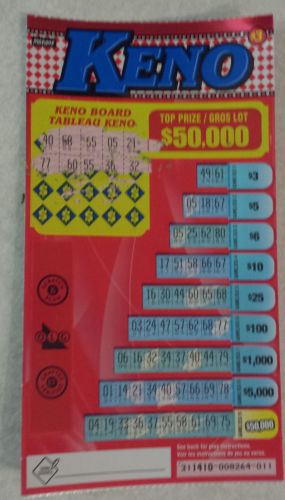 BTW I work on a computer all day – and I think I must be getting carpel tunnel or something. Just holding the coin so I can scratch these cards absolutely kills me. I hope you know the pain I put myself through for you guys!
Okay let's go to the 3rd row.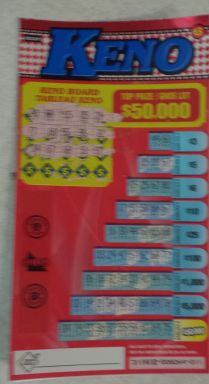 The picture is very blurry – I apologize for that. Clearly I was shaking with excitement at getting….yeah, not really anything. Let's move onto the last row: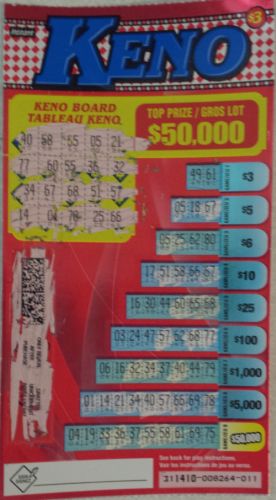 And we came just one number away from $5,000. However it was a bit of an anti-climax as 66 was the last number we got – which was also on the $5,000 row. That was disappointing. I mean part of the fun of doing these cards – well okay all the fun – is the DREAMING right? Where you sit around and dream about what you could win? If I was 1 away from $5,000 with 1 number left I'd easily stop and think about what I'd do if I won that $5k. So that was a bit disappointing that the card wasn't set up this way.
Oh well – we struck out again. That's now 4 Keno scratch cards and 0 wins. Surely our luck is coming soon though. I'll be back later this weekend with yet another scratch card blog. Have a good one.
Our Most Popular Keno Casinos for United States: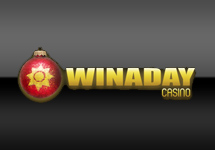 "WinADay Casino is the home of "Power Keno', the most populer online casino game with 7 Cards of Keno at once!"