MultiCardKeno.com » Blog »
Keno Scratch Card Blog #6: Bonus Keno

Alright we are back with another Keno Scratch Card. I am doing the yellow one this time which has all the frills – it has a bonus "Fast $5" section, and also the chance to enter the Daily Keno draw which is always cool.
This keno card is called "Bonus Keno" and offers $13 million in cash prizes. Man, if they're offering that much then how much must they take in? Scary to think about. The top prize for this one is $50k and the odds of winning are better than 1 in 2 – but that's due that whole daily Keno BS which is mostly a marketing gimmick.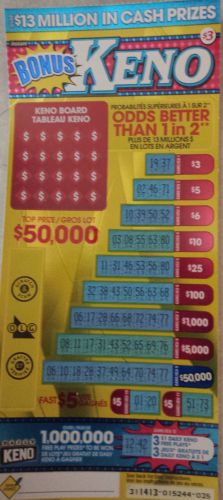 This was the one we won on – back in blog #3, where we got that Daily Keno draw. Bit lame, but hey feels good to win something.
We're due for a win so let's get to it. A nice $100 will do – I'm not greedy!
We scratch the first row and the numbers are 12, 42, 10, 46 and 70. That's 2 numbers off the $50,000. Even better? The first two numbers were for the Daily Keno draw: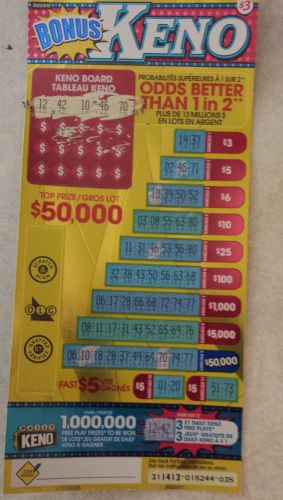 So a nice little start for us, that's for damn sure.
We scratch again and get:
73, 28, 65, 18, 03.
Okay that's pretty good. 4 numbers off the $50,000 and 1 off the fast win for $5. So yes I shall take that thank you very much – card cost 3 bucks, so a 5 bucks return would be nice. Here is how the bonus keno scratch card looks right now: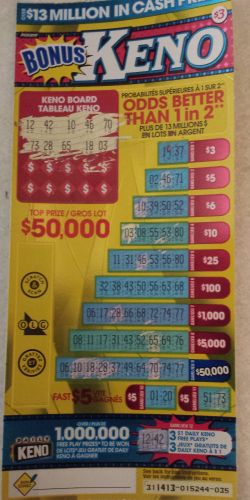 Onto the next row and we get 06, 31, 39, 17, 71. Man not bad – now we need just 02 for $5. Or even 50 and 52 for $6. Here's the card:
Funny that I said I'd take $100 and that's the only one with bloody nothing scratched off. Come on!
So let's scratch the last 5.
64. 19. 49. 66. 77.
Bah.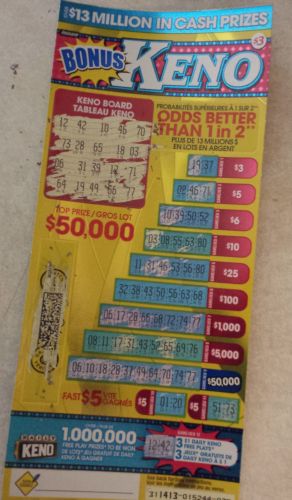 Just like the last scratch card we did a few days ago – we end up 1 number off $50,000 but it's not done in that awesome anticipation way. Oh well what can ya do? We won the daily keno draw entry and that's good enough for me for now.
I'll try and get some more scratch cards to do bonus ones next time. Have a good one everyone, and get some Multi Card Keno going by clicking on the banner below. That's a lot of fun, and you don't have to crunch your fist up just to scratch away some disappointment.
Our Most Popular Keno Casinos for United States: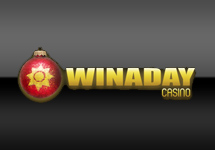 "WinADay Casino is the home of "Power Keno', the most populer online casino game with 7 Cards of Keno at once!"