MultiCardKeno.com » Blog »
Keno Scratch Card Blog #4: Guest Appearance by Lucky Lines

Well it's time for another Keno Scratch Card blog!
Hopefully you know the drill by now. I buy a keno scratch card, then I scratch away at it and blog about it. And you get to sit there and laugh as I don't make a dime!
So far I've scratched 3 cards – and made nothing. Odds are apparently better than 1 in 2 but we're now going for 1 in 4. Let's hope we can get it.
We also have a bonus this week – while at the store buying the card, I saw a Lucky Lines Scratch Card.
Man – these were my favourite scratch cards ever back in the day. I couldn't resist – I had to buy it. So we've got TWO scratch cards in todays blog. Here they are:

Okay – so on with keno first!
First scratch is a weak one. 32, 49, 50, 53, 80. We did get 1 off the $5 – and as the card cost $3 hey I'll take that! Profit would be nice.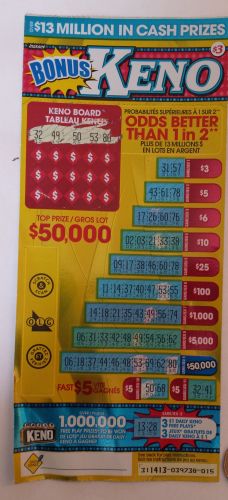 Second scratch is 46,14,33,60,28:
Okay so now we're halfway on both $5, as well as the big daily prize. We're looking okay on the $50,000 as well although missing a lot on the smaller increments. We got 60 on the $6 but I didn't notice till after, oops.
Okay, 3rd row…..oops, looks like my cat wants in on this: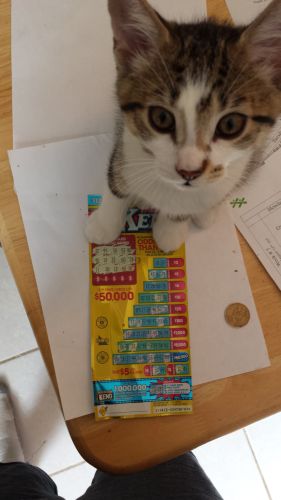 Maybe it's a good luck charm. At least it's not a black cat – that wouldn't be good luck at all.
Let's try again: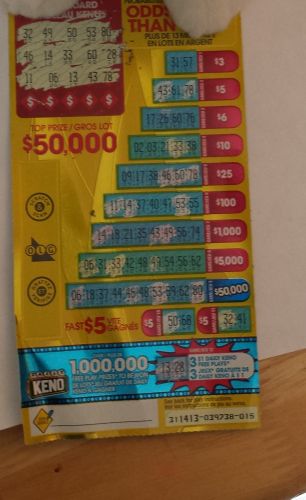 WE HAVE A WINNER! Granted – it's not really a true winner – I have to take the ticket in and get an entry to some daily draw which I won't win. But hey, it's something. And we're one number away from $5 three times over.
So all we need is 61, 68, 41 for a prize. Let's do it:
31.
26.
38.
3.
55.
BOO.
Not a good one at all there. We did come a bit close but really nothing big at all. Overall – yet another loser, although in the next blog I'll let you know what the deal of that 1 million dollar draw is, and how we do.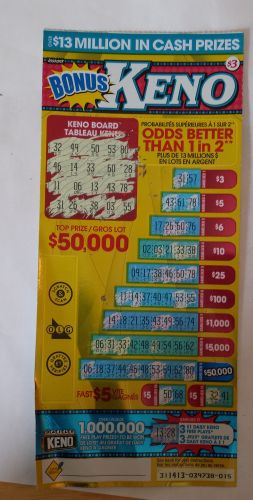 Still – one more scratch card to go. Let's get to Lucky Lines. We'll scratch off 5 at a time.
First 5: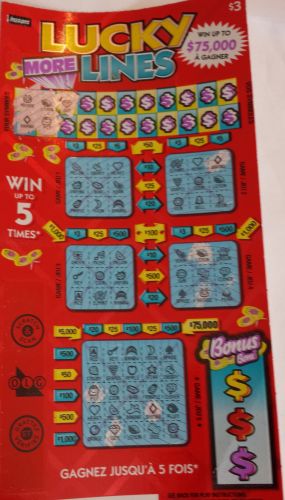 So we scratched off the horseshoe, lemon, gem, diamond and pot. All we need is teh dice for $25 right off the bat. Not bad at all. Although the big one is the $75,000 diagonal line at the bottom. Would be sick to get to that.
Next 5 we scratch off are the Spade, Plum, Horn, Pineapple and Strawberry: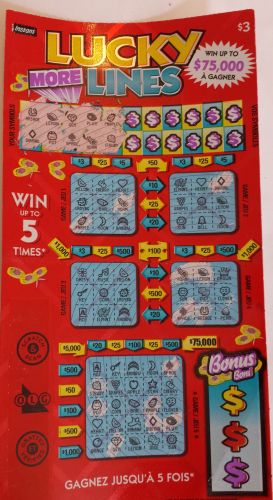 Again, nothing really to write home about. But we're getting closer. Sun and Dice on the middle right scratch box are just begging to turn up.
Let's move on: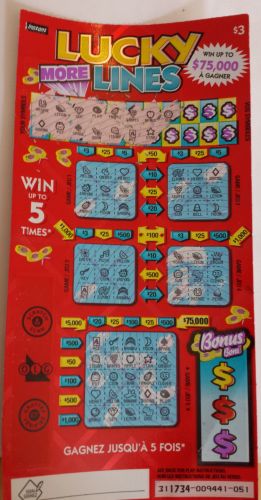 AND WE HAVE A WINNER! We got the Sun, for $3 on the middle right one.
Even more importantly – we're just a cherry away from $50 on the main prize area. The ones we scratched off here are the grapes, ace, apple, star and sun.
Okay, let's do the next 5 and leave 2 left:
We got the Orange, Clover, Bell, Rainbow and Ladybug here. Lot of opportunities – and we need the bar and melon to get $75,000 on the last two. Or just the BAR to get $5,000.
The last two are…..
Key…..
And Music.
BAH.
And we missed on the bonus area too: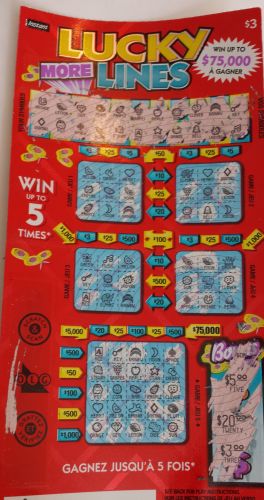 Still – $3 is the cost of the card. So we'll buy a new card with that $3, and roll again next time!
Thanks for reading and being my excuse to buy keno scratch tickets every week!
Our Most Popular Keno Casinos for United States: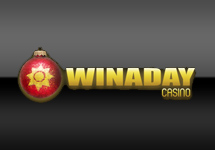 "WinADay Casino is the home of "Power Keno', the most populer online casino game with 7 Cards of Keno at once!"