MultiCardKeno.com » Blog »
Keno Scratch Card Blog #3

Well – I'm hoping it's third time lucky. Despite coming close the last few times we've did keno scratch cards together – we still haven't won anything!
I'll take a $3 win at this stage!!
This one is different than the others as it is a Bonus Keno Scratch Card. Here's how it looks: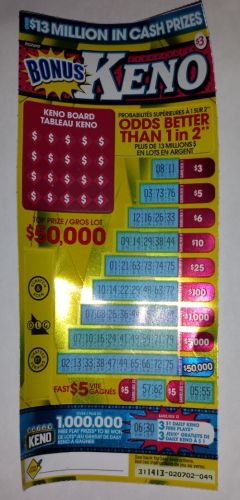 So we have the 20 numbers to scratch off as is standard. However the odds for this one are better at 1 in 2. Then there's a fast $5 where we just need 2 numbers on either. Finally there is an additional game where we get 3 $1 Daily Keno free plays. That's pretty cool.
The last two scratch cards were just single card keno games – this one adds a few incentives with the bonuses so I'm quite excited to play. The odds of winning are apparently 1 in 1.86 which is pretty sweet.
Let's scratch the first row: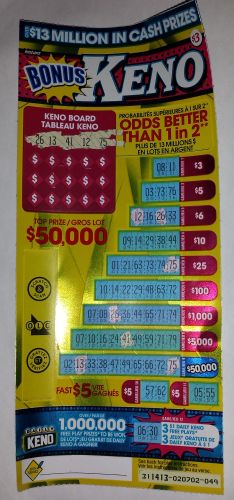 26, 13, 41, 12, 75. So we get 2 numbers scratched off on the $6 prize right away. Not too shabby. Also 2 on the $50k – man wouldn't that be sweet.
So 16 & 33 needed for $6. Let's scratch row #2: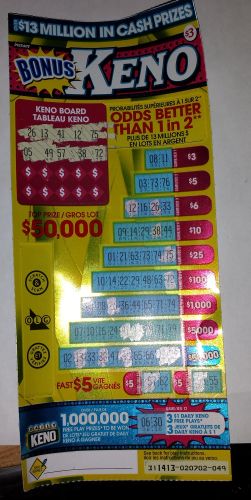 5, 49, 57, 38, 72.
Okay, that was a GOOD one!!! We're now halfway there to the $50,000 prize at the halfway mark of scratching the numbers. We also are just one away from a $5 prize on BOTH of them.
I'm feeling good. This is going to be a winning keno scratch card I can feel it.
Let's get to row #3 and see if we can get a winner here – or at least some more in the $50,000 row mark: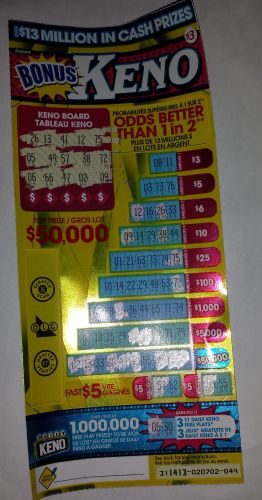 6, 66, 47, 02, 09.
Well, that was both good and bad. Bad in the sense we didn't get the $6 or $5 prizes – but good in the sense that we got THREE off the $50,000 mark.
So now to get the $50,000 prize with 5 numbers left, we need to get 2 of them. ANd we can also pick up a $5 prize too or gain entry to the Daily Keno Free Play Prize Draw.
So are you guys ready? Fingers crossed….#33 and #65 is all we need for a big pay day. And I'll buy everyone reading this blog….I dunno, a hot dog or something. Hey it's my money!
Alright let's do the final row….
The first number is 65. WOW. That's in the $50,000 prize list.
We need just 33 to do it. Come on 33, come on lucky 33!!!
And the second number is 44. Bummer. Although that gives us just 2 numbers left needed in the $10 prize row.
Third number 71. No help anywhere.
Fourth number….3. I saw the 3 and got excited. Damnit. Another one no help.
Fifth number….48.
Ugh. Nothing.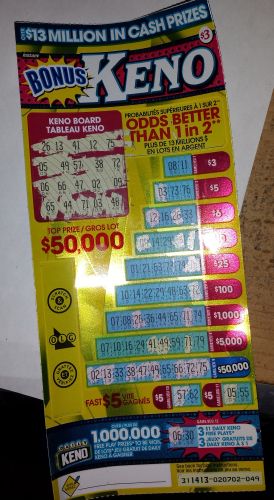 Must admit I really thought we were going to get the $50k prize haha. Oh well what can ya do?
Stay tuned to the blog for more Keno scratch cards in the near future.
Our Most Popular Keno Casinos for United States: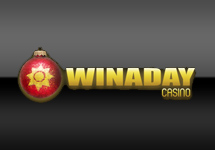 "WinADay Casino is the home of "Power Keno', the most populer online casino game with 7 Cards of Keno at once!"