MultiCardKeno.com » Blog »
Keno Scratch Card Blog #26: Words With Friends

I've been enjoying scratch cards so much the past little while that I wanted to continue doing them this week.
I've also been playing Words with Friends on my phone, so when I went to check out the scratch cards this week and saw that one of them was a Words with Friends scratch card I just had to try it out.
Of course it's really just your typical crossword style scratch card. Here's a picture of both of them: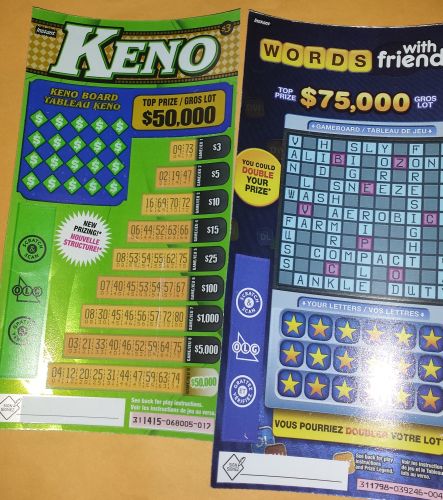 We'll talk more about that in a bit but first let's do the Keno scratch card as per usual. We will scratch a row at a time and see how it works out.
First row: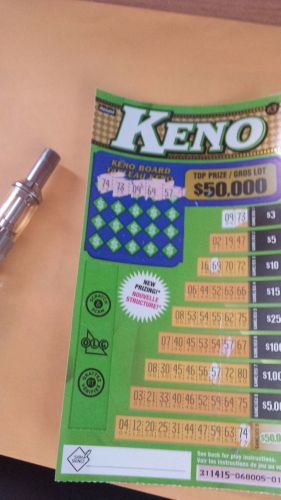 Oh wow – I can't remember ever having a start like that before. We got 9 and 73 right off the bat which won us $3. Now we're playing with anything else a bonus. I do believe anyway that this is a multiple win scratch card – although nothing says it is.
I could always look at the back and see – but eh, it's best to just assume there is as it's fun that way.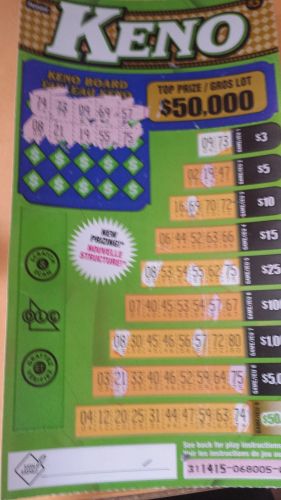 So okay – nothing in the big rows unfortunately. But we do have just 53, 54 and 62 needed for $25 or $28 total. That'd be swell.
Let's scratch the 3rd row and see if we can get some of the $25 numbers: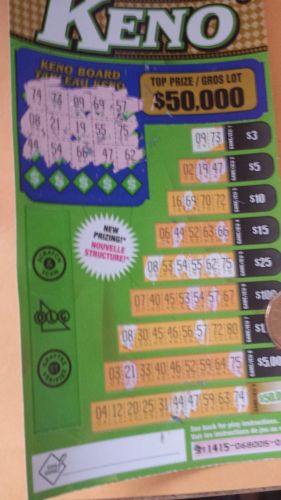 That's an awesome one. We got 54 and 62 and now we just need 53 for $25. We also need just 02 for $5. A lot of good opportunities here. Let's scratch the final row and list them one by one:
56.
59.
12.
46.
31.
Oh well – here's the final card: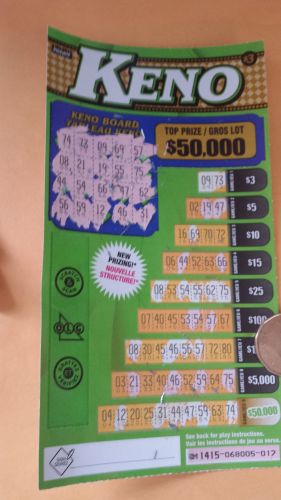 We still got 3 bucks out of it so that's me happy. Long as I break even I'm feeling good.
Let's get onto Words with Friends.
So for this one we scratch off and get letters then scratch the word. IF we get a full word yay – but we need 2 words minimum. 2 words is $3, 3 words is $5 and it keeps going. 11 words is a cool $75k.
Let's scratch the first row.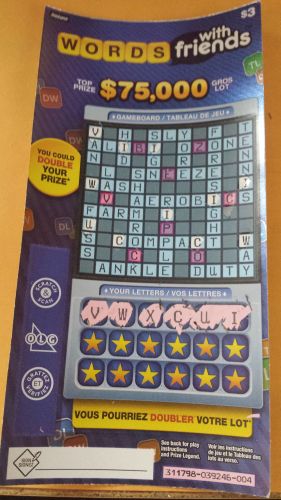 Oh – we have those red squares. Apparently if we scratch a word off with that we double the prize.
It's also possible that while scratching I missed some letters to scratch – always seems to happen with these crossword type scratch cards. But that's why they have scratch and scan now – so if I miss anything, the machine might pick it up!
Here's the 2nd row scratched: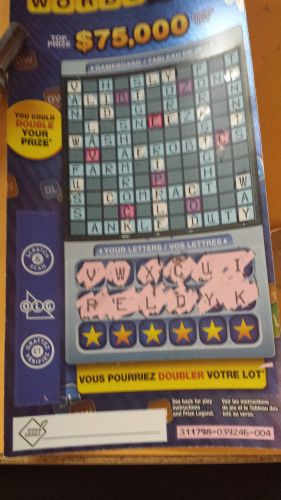 Getting E was a nice letter to get. A is the really big one though – if we got that it would be huge. Let's scratch one by one:
Z.
M.
G.
Nothing good yet.
Q.
B. We need A now for a big cash….
S. Damn it.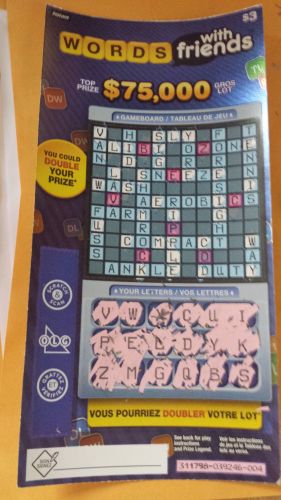 Not even one win. Oh well – still a fun one. I'll be back next week with more scratch cards.
Our Most Popular Keno Casinos for United States: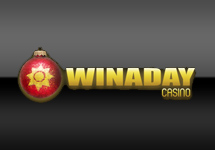 "WinADay Casino is the home of "Power Keno', the most populer online casino game with 7 Cards of Keno at once!"