MultiCardKeno.com » Blog »
Keno Scratch Card Blog #19: Worst Keno Card Ever

Here's something that is annoying – my local store has a list of all of the scratch cards available that they sell, and then a list of the grand prizes still available.
So often I will go and buy the cards based on that.
Well apparently they have two $3 Keno cards available. One has 10 out of 10 grand prizes still available. The other? 0. Except my corner store only sells one, and I have no idea which is which!
So now I am playing this having no idea if my EV is crap, or super duper whooper crap.
Annoying.
Anyway, this time out I went with a Keno card as per usual, and a Lucky Lines card. Here they are: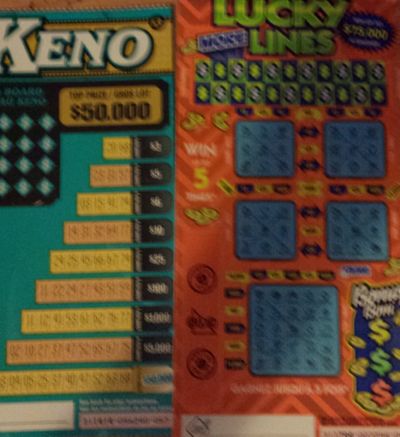 Years ago I was – I don't want to say hooked on scratch cards but I was buying a couple a week. And man I loved Lucky Lines so much – was such a fun one to play and one of my favourites for sure.
So I picked up that one. We'll do that in a minute but let's scratch Keno first. You know the drill – 20 numbers to scratch and if we get one set of numbers in a row we win that prize. Very simple – no bonuses or anything like that.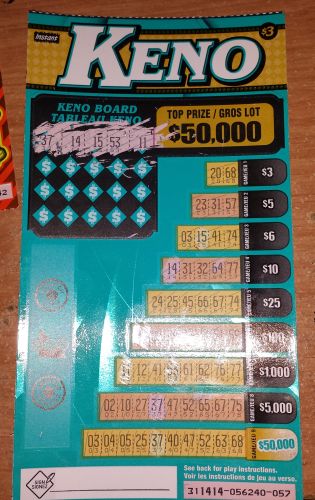 First numbers were 37, 14, 15, 53, 11.
This card actually sort of sucks because it's quite hard to see what the hell was actually scratched off. Very annoying.
Okay next row: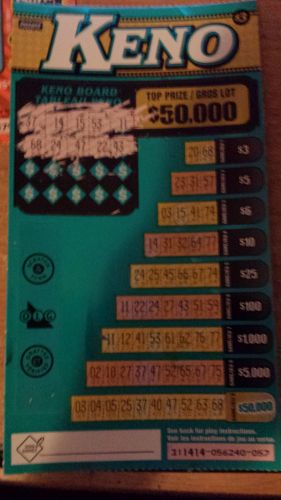 So we have 68, 24, 47, 22 and 43. At least 68 is half of the $3 just need 20 there. We also have quite a few off the $100 one. Damn that would be nice.
Let's get to the third row: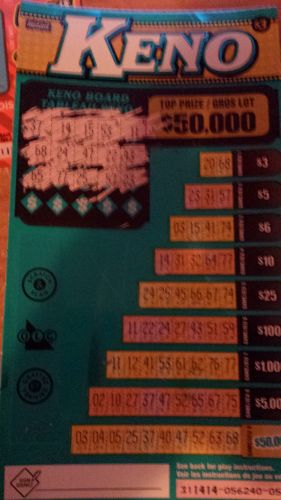 65, 77, 25, 57, 23. Man – I really really hate this card. It's so so difficult to see what I have. I could have $50,000 and probably wouldn't know it right now.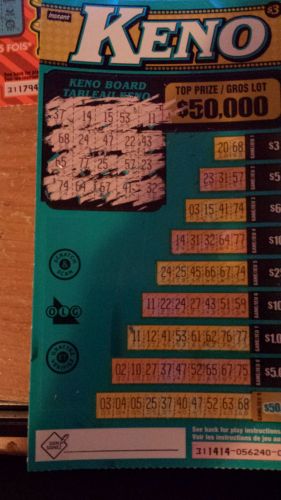 Final numbers 74, 64, 67, 41, 32. I thought I had won $10 but I can't see 31 anywhere – looks like I hadn't scratched it. Bah. I'm in a bad mood with this stupid card. I don't think I won anything let's just get to Lucky Lines alright.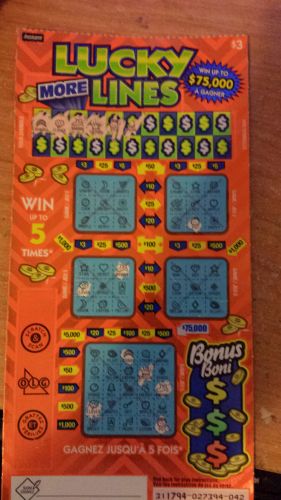 So first symbols scratched were the rainbow, clover, banana, crown and pot. Unless I'm missing some – and that is always possible – that was a horrible, horrible start with almost nothing going for me.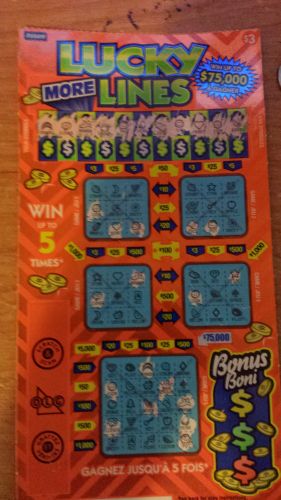 So okay on that scratch we got the dice, pear, sun, heart, coin and horn. Now we need a daisy for $20. The horn is also in the middle of the big prize area which is nice.
Next ones: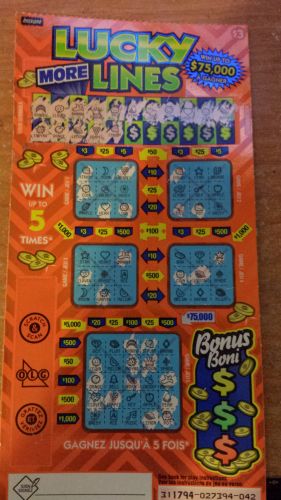 Alrighty with 6 left we got the ladybug, orange, lemon, grapes and strawberry. Technically I just need diamond and daisy for the $75k grand prize but I laugh at that – I also need daisy for $20 and $5 and I just highly doubt that's going to happen. I figure you win that it's just that one.
Oh well – let's scratch the rest. Pineapple would be sweet that'd get me $23.
Got the bell. Not on any of the small boards but it means just the cherry for $100.
The elephant. YAY. I just won $3 so that's this card paid for. That sadly wasn't on the big board.
Bar. Now I need Gem for $10 or Melon for $3. That's on the bottom right small board. Not on the big board ugh.
Apple. 2 symbols left.
Melon. One symbol left. I won $3 thanks to the melon so $6.
Here's why I love these cards. It feels like I can't help but win more and more. It's like this symbol will unlock something that will win it for me. It probably won't. I predict the plum no wait that'd get me $100. Um…music. Music won't win me anything.
And it was music!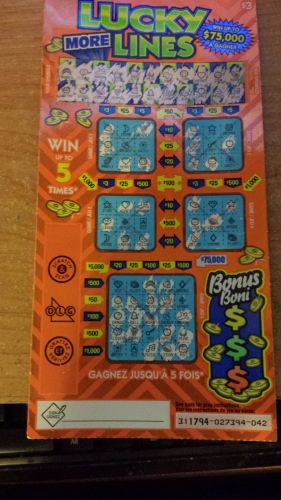 Yay – so $6 total. I'm happy with that – I paid for both cards with that.
Although I don't think I shall be playing crappy Keno again for a little bit with how hard it was to see the card and the scratched boxes.
Our Most Popular Keno Casinos for United States: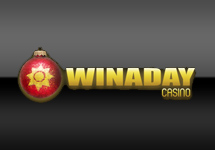 "WinADay Casino is the home of "Power Keno', the most populer online casino game with 7 Cards of Keno at once!"