MultiCardKeno.com » Blog »
Keno Scratch Card Blog #16: Hey Horseshoes

Along with our regular Keno scratch card, we've picked up a new scratch card this week. Well at least – it's new to us.
The new scratch card is a $3 Horseshoes Scratch Card with a Top Prize of $75,000. Of course yet again I forgot to bloody check and make sure that the top prize hadn't yet been claimed. Sigh. I don't know how I make that mistake week after week!
I mean really scratch cards are never going to have a positive expectation – but it WILL be slightly better as long as the top prize is still available.
Oh well – here are the two cards: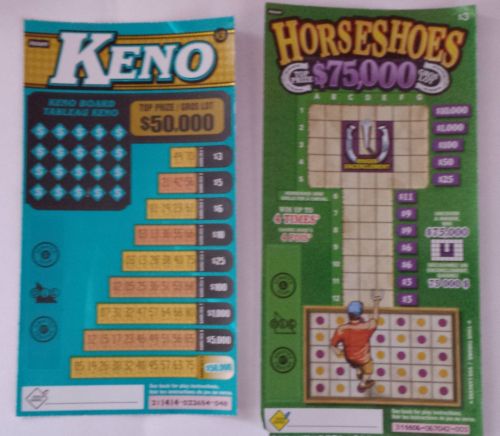 Let's get started with the Keno scratch card.
So the first row of numbers were 28, 31, 53, 56 and 70. We got 50% done the $3 with 1 number needed, and 33.3333% done on the $5 with 56. Need 21 and 42 there. Nothing else notable so let's move on to the next row as I forgot to take a picture after scratching the first row.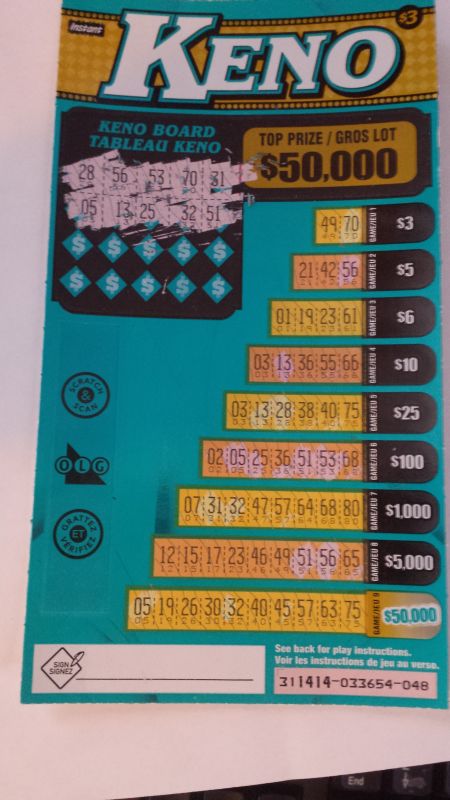 Well the 2nd row got us 5, 13, 25, 32 and 51. That isn't bad – 2, 36 and 68 will give us $100. I'd be well happy with that, that's for darn sure!
Here's the 3rd row: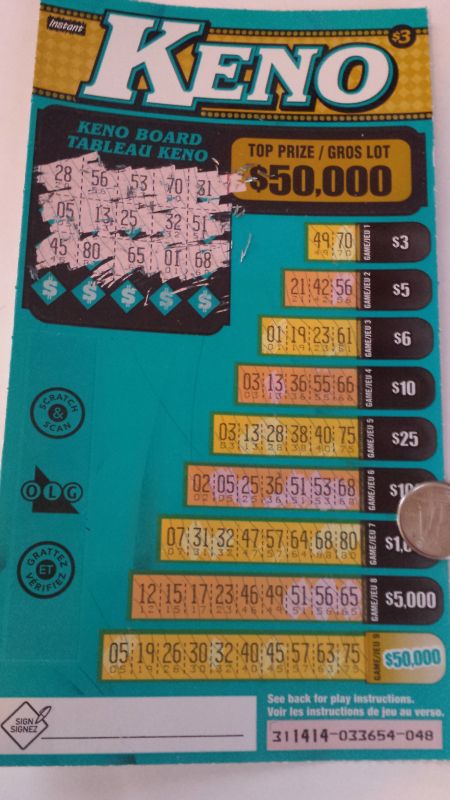 So eh – we got 68. 2 and 36 for $100, 49 for $3 or 21 and 42 for $5 are the only chances we have. Not feeling great about it but let's scratch this last row.
First number is a great one. 36. Now we just need 02 for $100. Even if we don't get it man I'm going to have fun scratching the rest of these numbers.
75 doesn't help us.
26 also doesn't help.
We end up with 49 and 21. Here's the final card: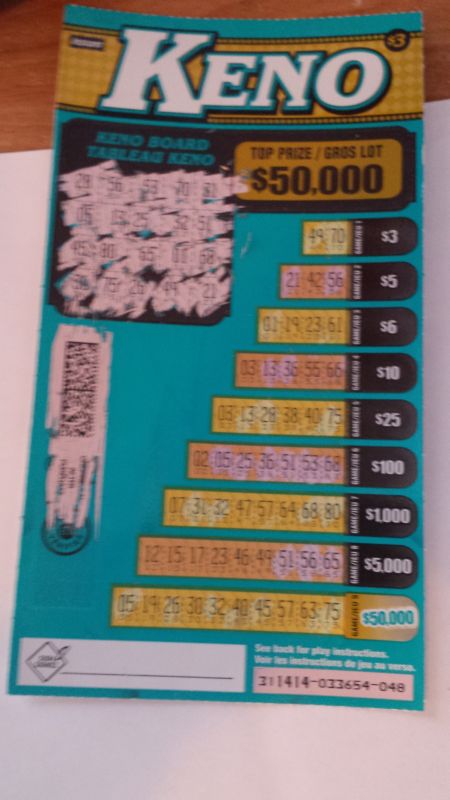 So hey we won $3 and got our money back. Can't beat that. Well you can – but either way I am happy.
Let's move onto Horseshoes.
So with the Horseshoes card you scratch each of the 35 "Your Throws". Oh holy crap this seems confusing. Each one reveals a location on the grid and if you get a horizontal row you win that prize and if you get a ringer which is C2, C3, C4, D4, E4, E3 and E2 you win $75k.
Okay let's scratch the first row and see what happens: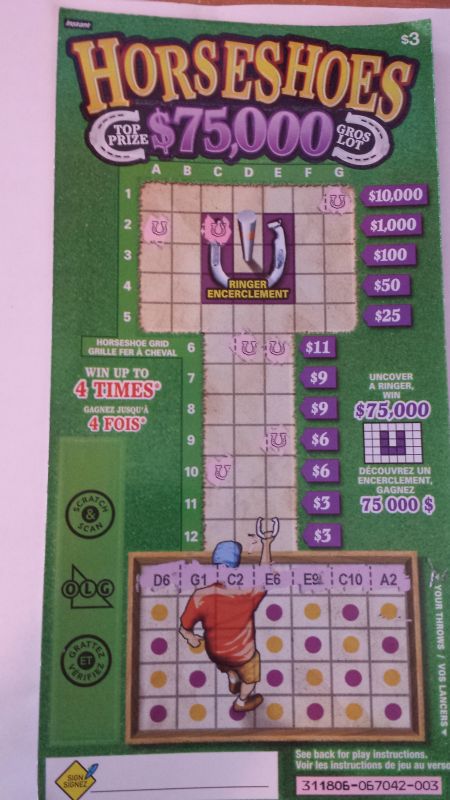 Okay I get this one now. And this is pretty damn neat. It's cool because you have 35 numbers and it seems impossible NOT to win – but there's actually 56 sections on the board so yeah that's going to be difficult.
Already a good start though. Just need C6 for $11. Let's get to the next row: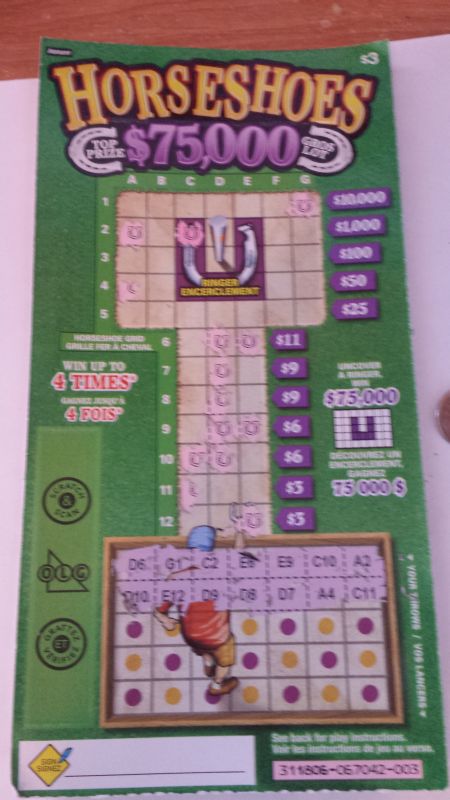 Yeah I am really digging this game and totally buying it again if I remember to check that top prize! So we now have C9 needed or E10 needed for $6. What a fun scratch card.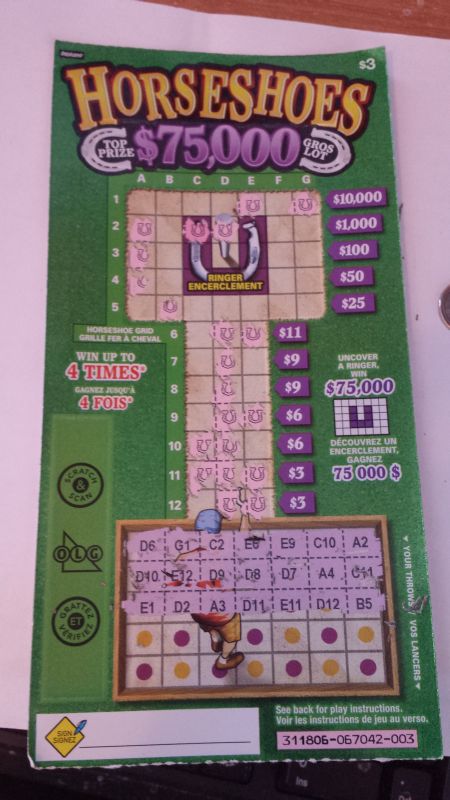 So on that scratch we got D11 and E11. As we already had C11 that means we won $3. We can win up to 4 times as well. I think this is the first time we've actually won on both scratch cards when doing these blogs.
Let's do the next row: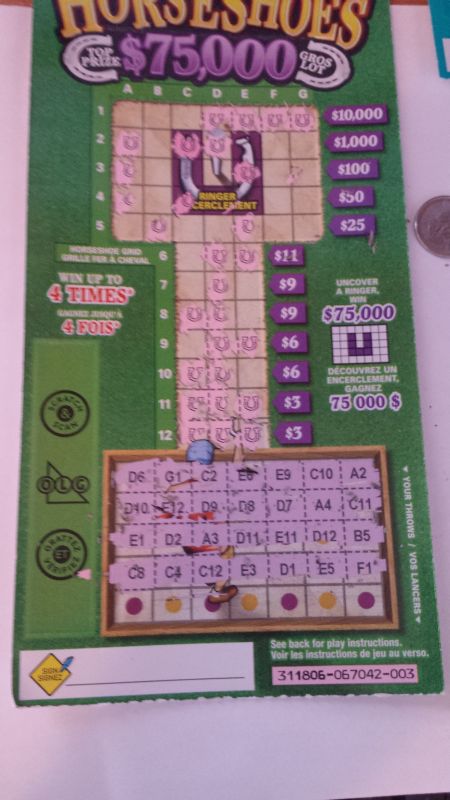 Oh wow and we won AGAIN. We got C12 and that means $6 we have made off this card or $3 profit. Awesome.
Let's do the final row:
And YES – we got C9 to make it a $6 win for a total of $12.
Love it, great game.
Buying that next week and maybe the week after as long as the top prize hasn't been taken yet.
Our Most Popular Keno Casinos for United States: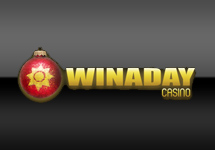 "WinADay Casino is the home of "Power Keno', the most populer online casino game with 7 Cards of Keno at once!"